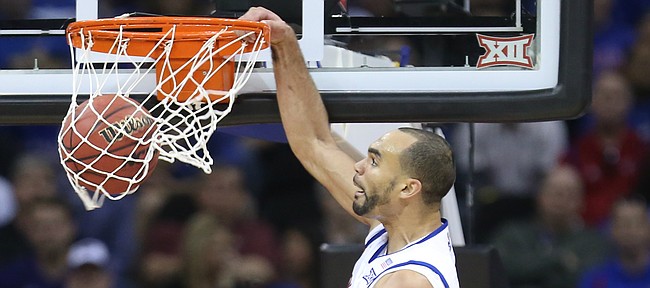 College basketball blue bloods.
It's an unofficial designation with a difference of opinion on which schools deserve the label. The general consensus zeros in on six schools.
Five of the schools count a shade of blue as their primary, one red. One of the schools has blue as its primary, a shade of red as its secondary.
The six blue bloods, listed in alphabetical order so as not to make six fan bases turn red: Duke, Indiana, Kansas, Kentucky, North Carolina, UCLA.
At least one blue blood has participated in 50 of the past 54 Final Fours, including every year from 1962 through 1978 and every year from 1986 through 2012.
The longest national-title drought for the blue-blood class of six schools? Just three seasons (2002-04). Blue bloods have won 32 of the past 54 NCAA tournaments.
UCLA is the lone blue blood excluded from this year's NCAA Tournament field, and 60 percent of this year's blue bloods are playing in the same pod.
Des Moines, site of a subregional playing host to four teams from the East regional, four from the South, will be crawling with blue-blood fan bases this week.
Indiana and Kentucky, possible second-round foes, and Kansas play in the Thursday-Saturday sub-regional at Wells Fargo Arena.
Look for Kansas and Kentucky fans to boo each other at the games. With any luck, they'll socialize in different watering holes.
They won't be the only fan bases wearing gear that recognizes national championships of yesterday.
Starting in 1999, guess which school has won the most national titles.
Kentucky? Wrong. Just one (2012) during that time period. Ditto for Kansas (2008), which is one more than Indiana (last title came in 1987). North Carolina has won two (2005, 2009), as has Florida (2006, 2007). Duke? Wrong. The Blue Devils won in 2001, 2010 and 2015, giving Coach K three of his five titles during the time period in question here.
The correct answer, of course, is UConn, which has gone to the Final Four five times in the past 17 seasons and won the national title in four of those. The Huskies are 9-1 in Final Four games, winning national titles in 1999, 2004, 2011 and 2014.
UConn, which won the American Athletic Conference tournament title by defeating Cincinnati in four overtimes, 104-97, Temple by 15 points and Memphis by 14.
The ninth-seeded Huskies face Colorado for the right to play Kansas in the second round.
Dangerous UConn won the national title two seasons ago as a No. 7 seed.
The school's winning history doesn't stretch back long enough to merit blue-blood status, but nobody has been more impressive as cold-blooded killers in March in recent decades.
— Sports editor Tom Keegan appears on The Drive, Sunday nights at 10:30 on WIBW-TV.
More like this story on KUsports.com