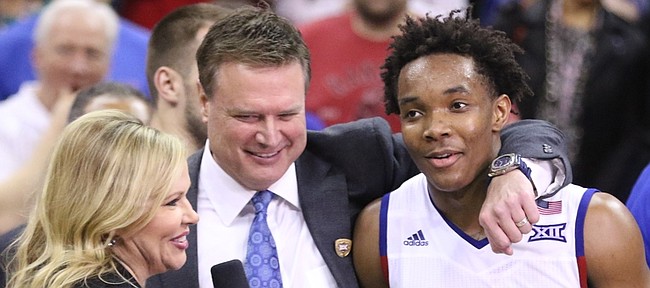 The 2016 NCAA South Regional field of teams looked as tough to Kansas University basketball coach Bill Self on Monday as it did upon first glance Sunday night.
"It does seem pretty 'name heavy,'" Self, coach of the overall No. 1 seed, said of a bracket that includes eight of the top 25 teams in the highly respected Kenpom.com ratings. In order, it's KU at No. 1, followed by Villanova (5), Wichita State (12), Miami (13), Arizona (16), California (21), Maryland (23) and UConn (25).
"You look at Maryland as a 5 seed and Arizona as a 6 seed. That was shocking. Cal (4 seed) has as many good, young players as anybody in the country, without question. I was surprised Villanova was a 2 seed in our region.
"I'm sure you could go through the other regions and make cases about them, too. I'm not hung up on that at all, but it was a bit surprising to see some of those names pop up on those lines," Self added while speaking as a guest on ESPN's Mike and Mike show.
His Jayhawks (30-4) will meet No. 16-seeded Austin Peay (18-17) approximately 3 p.m. Thursday in Wells Fargo Arena in Des Moines, Iowa. Winner will meet either No. 8 seed Colorado (22-11) or No. 9 UConn (24-10) at a yet-to-be-determined time on Saturday.
"I was shocked we were in the South Regional based on what I've always been told were the reasons why geographically you'd be in certain regions. I've always been told with the regions, basically if you are a No. 1 overall you go to the region closest to you," Self said. "The second No. 1 seed will go to the region closest to them after the first one was picked.
"There's not much difference on the mileage or anything like that," added Self, who on Sunday had joked that cell phone information provider Siri indicated Midwest regional site Chicago was 448 miles from Lawrence, South regional site Louisville 515 miles.
His Jayhawks could meet former KU guard Mark Turgeon's Maryland squad in a Sweet 16 game a week from Thursday in Louisville.
Self agreed with Mike and Mike's Monday panel that it would be nice to have a scenario in which NCAA Tournament committee members "could say, 'This is the criteria we're looking at in this order — whether it be record away from home, to neutral (sites), to top 25 wins, top 50 wins or however you want to word it.'
"It gets down to so many things. One team could be 72 in the BPI (Basketball Power Index) and be 47 in the RPI (Ratings Percentage Index) or vice versa. I think it is a little misleading and confusing. I think we can probably do a better job of educating so that way everybody has a better feel of what they are trying to actually accomplish during this."
Self said he'd never want teams to be selected solely on things such as BPI and RPI.
"At some point in time, you want to take into consideration if a Denzel Valentine (Michigan State standout) was out eight weeks instead of three weeks (due to injury), or if there were certain things that happened in the course of the season," Self said. "I still think the eye test to me is the best way to go — who you played, who you beat."
Schedule: The Jayhawks will practice today, then are scheduled to board a bus about 2 p.m. outside Allen Fieldhouse for a 31⁄2-hour trip to Des Moines, site of Thursday's opener against Austin Peay.
KU will hold a practice from 2:15 to 2:55 p.m. on Wednesday at Wells Fargo Arena. The public is invited. Austin Peay's open practice is 12:45 p.m. to 1:25 p.m. Former KU guard Tad Boyle's Colorado Buffaloes will practice from 1:30 to 2:10 p.m.
KU still No. 1: KU was ranked No. 1 in the AP poll Monday for the third straight week. Michigan State was second, followed by North Carolina and Virginia. KU received 63 first-place votes Monday from the 65-member national AP media panel. Michigan State received the other two No. 1 votes. Oregon, the NCAA's other No. 1 seed, is fifth, followed by Villanova, Oklahoma and Xavier. Miami and Kentucky are tied for 10th.
KU coach Self on the state of his team entering the NCAAs: "I think we've played well of late. We are confident. I know I am (confident) in how we've been playing. It doesn't guarantee success, but you have a good feeling going into it. We've had guys step up and make plays. Our perimeter shooting still can be inconsistent, free-throw shooting inconsistent, defensive rebounding inconsistent. I believe we are more consistent than what we were in early February when we were winning but had great stretches and poor stretches in games."
Of his team having more veteran players this year than the past couple years, he said: "People talk about our experience, and we do start only one senior. We're still relatively young. I don't think they'll all be back, but we're relatively young. The guys are tough. They share it. They have grown up together and enjoy playing with each other. Not that the others didn't. The other teams didn't have the maturity the last couple years that this team has."
Mark's miffed: Former KU guard Turgeon, head coach at Maryland, blasted CBS on Monday for the network's two-hour Selection Sunday show. The show used to be an hour, with the bracket revealed at the start.
"I hated the two-hour show. I think it's ridiculous. I think it should have been a one-hour show like it always was, and let's just get to it. We sit around all year, this is what it's about, it's not fair," Turgeon told 106.7 The Fan's Grant Paulsen and Danny Rouhier.
Somebody on Twitter, who has killed his/her account, leaked the bracket during the show.
"The leaked bracket helped a lot of people," Turgeon told the radio hosts. "I hate that that happened. But the show's too long. It should just be an hour like it was, and it's more entertaining, and get it out there."
More like this story on KUsports.com