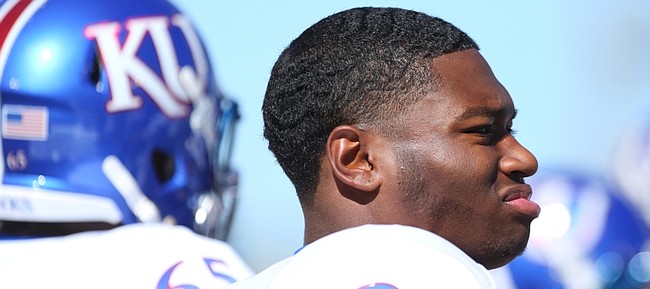 It's possible Kansas University rising senior Montell Cozart has had the most diverse X-and-O education of any quarterback in the history of college football.
Think about it. Cozart began his freshman season playing in an offensive coordinated by Charlie Weis. The head coach fired himself from that portion of his job and appointed quarterbacks coach Ron Powlus as pass-game coordinator and tight ends coach Jeff Blasko as run-game coordinator.
Then John Reagan joined the program as offensive coordinator/O-line coach for Cozart's sophomore season. Weis was fired after four games, and not long after that, interim head coach/defensive coordinator Clint Bowen took the OC duties from the O-line coach and gave them to receivers coach Eric Kiesau.
After that season, athletic director Sheahon Zenger turned Bowen back into a full-time DC and hired David Beaty, who had served two stints as an assistant coach in KU's football program for two different head coaches, as the new head coach. Beaty hired Rob Likens as his offensive coordinator, but in keeping with the musical-chairs game in a sport that puts a premium on reps to develop timing, Likens didn't stay in that job for long.
Beaty, the head coach, added OC duties to his long list of responsibilities and demoted Likens to "walk-around guy," who will spend a lot of time helping the offensive line coach.
If you suspect all that change has soured Cozart on football, college, even life, then you haven't spent any time with the young man. It would take a great deal more than that to knock the smile off of his face, the front of a head that somehow is not spinning from all the changes.
Cozart has seen a lot. He has seen a head coach fire himself as OC and he has seen a head coach hire himself as OC. He has seen a wide-receivers coach add "offensive coordinator" to his job description, and he has seen an offensive-line coach subtract "offensive coordinator" from his job description.
For the purposes of comparison, 85 miles down the road, Bill Snyder has been the head coach, Dan Dimel the offensive coordinator at Kansas State since Cozart was a freshman in high school. How boring.
"It's been fun out there," Cozart said two days into spring practice. Cozart said he started working with the new offense, the Air Raid version preferred by Beaty, since December.
"We've been working on it for three months now, and we're starting to get the hang of it," Cozart said. "We like to spread teams out a little more and utilize tempo. The quarterback has a little more freedom in this offense and has more on his shoulders. ... We're communicating the protections to the offensive line, and the signals are different."
Not counting the Powlus/Blasko tandem, Cozart has worked under five offensive coordinators. He speaks five football languages. He speaks Weis-ese, Reagan-ese, Kiesau-ese, Likens-ese and Beaty-ese.
What he doesn't speak is bitterly. He welcomes each change, looks forward to growing, always speaks highly of his coaches and teammates. He missed the final eight games of last season due to an injury that required surgery on his left shoulder. He has applied for a medical red-shirt in hopes of being able to extend his football career through the 2017 season, by which time there is no telling how many offensive coordinators he will have looked to for guidance.
"I've been through a lot," Cozart said. "I've been through five offenses in 31⁄2 years. I just take advantage of it."
Cozart's length and speed always have made him a prospect at wide receiver, but no coach has switched him from quarterback. He could have had a little bit more stability at that position, but just a little. Since Cozart's freshman year in high school, KU's wide receiver coaches have been Beaty, Darrell Wyatt, Beaty again, Rob Ianello (two consecutive seasons), Kiesau, Klint Kubiak and now Jason Phillips.
Upheavel can't dent Cozart's optimism.
"I feel like the offenses when I came here weren't geared too much to my style, but last year and now I feel like I'll be able to succeed a little bit more and be able to put our offense in a better position," Cozart said.
He didn't say a stable position. He said better.