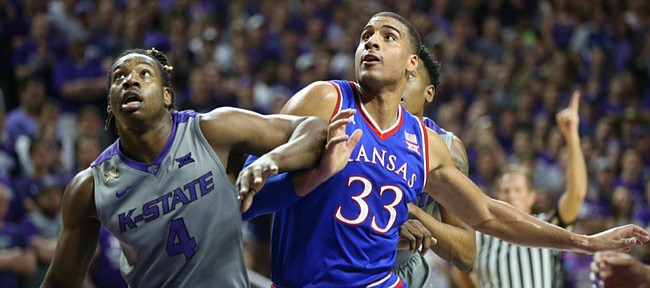 The Sunflower Showdown will have a third edition during the 2015-16 men's basketball season.
Because of eighth-seeded Kansas State's 75-71 victory over ninth-seeded Oklahoma State in the opening game of the Big 12 championship, the Kansas University men's basketball team will have to take down its rival from the west for a third time this season to move on in the Big 12 Conference's postseason tournament.
K-State, which led 40-23 at halftime before being outscored 48-35 in the second half, got 20 points from freshman Dean Wade, 17 from Justin Edwards and 14 more from Wesley Iwundu.
Wade struggled in both games against the Jayhawks (27-4) this season
"The K-State-KU games are always intense, rivalry games," Wade said after Wednesday's victory. "It's a big game for us. We'll just go back to the hotel and get some rest and bring it back tomorrow."
Added Edwards: "It is definitely going to be challenging. The No. 1 team in the country. Obviously, they will be playing at a high level."
The Wildcats (17-15) played KU tough during both games this season, falling in Lawrence, 77-59, and losing last month in Manhattan, 72-63. The end of the game in Lawrence featured the latest Brannen Greene controversy, as the KU junior dunked the ball with a couple of seconds remaining on the clock while both teams had quit playing.
The bucket drew the ire of KU coach Bill Self and, later, inspired K-State fans to heckle Greene more than they normally would have.
It should be interesting to see what Round 3 brings, in a great environment in front of a couple of charged up fan bases.
KU and K-State are scheduled to tip-off at 1:30 p.m. Thursday at Sprint Center in Kansas City, Missouri.