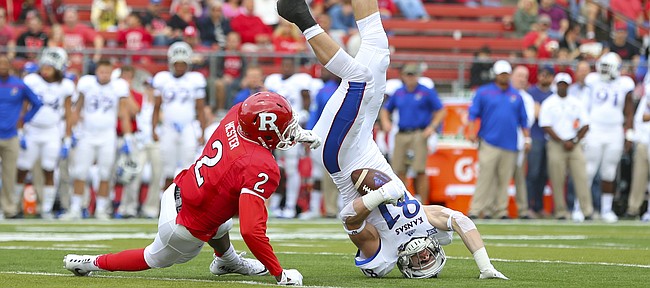 A couple of well-known names from rosters past no longer appear on Kansas University's most recently updated football roster.
Tight end Kent Taylor and linebacker Schyler Miles, both Florida natives who had one year of eligibility remaining, will not be back with the Jayhawks in 2016.
Second-year KU coach David Beaty had nothing but good things to say about both players and added that each did what was best for him.
In Taylor's case, that was to leave the program to return closer to home.
"I hated it," Beaty said. "Because I loved him. I didn't want him to leave. I wish him the best of luck and I hope it works out for him."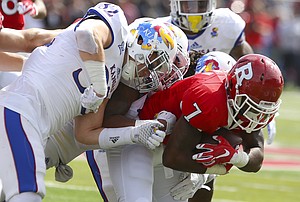 As for Miles, his departure was simply a case of a career full of knee injuries catching up with him.
"That poor guy. I tell ya, I don't know if I've seen a guy more banged up than Schyler was," Beaty said. "Between his knee and his hip, that guy has been through it now. His knee is in bad shape.
"He and his parents, we all thought it was in his best interest for him to be done. He was just hurt. It would've been unfair for us to ask him to continue on because he really couldn't."
Former defensive lineman Tyler Holmes also no longer appears on KU's roster and, like Miles and Taylor, it is believed he left the program on his own for personal reasons.
Beaty and the Jayhawks will take today off and get back to work Tuesday for practice No. 2 of the 15-practice spring session.
More from Day 1 of spring football:
• KU football coach David Beaty taking over play-calling duties for 2016 season
• Tale of the Tait: What caught my eye from Day 1 of spring practice 2016