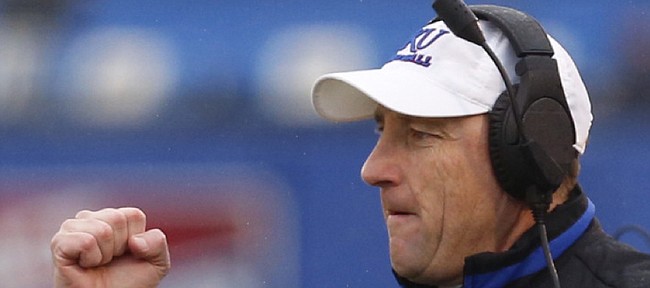 Today marks the first spring practice of the second season of Kansas University football led by David Beaty.
And while there are many areas that must be addressed if the Jayhawks hope to make Year Two more enjoyable than Beaty's winless debut in 2015, there are a few aspects of the program that will be under the spotlight this spring.
Here are six such spring story lines that Beaty and company hope will set the foundation for a more successful 2016.
1. Quarterback race — With the news of Ryan Willis' wrist injury just surfacing, this becomes a loaded category. Not only is it worth a look to see how 2015 starter Willis shows up as a sophomore with a little experience and a lot of expectations, but there are also the questions of who will back him up and what the coaching staff will do with Montell Cozart, who opened both 2014 and 2015 as the starting QB but did not finish either season in that same role. With Willis limited, Cozart, red-shirt freshman Carter Stanley and returning senior Deondre Ford all will get the chance to take meaingful reps this month.
2. Physical transformation? — You might be getting tired of hearing this question and reading the answer, but, based off everything I've heard this offseason, it's a question you want to pay attention to this spring. Multiple people close to the program told me that the job strength coach Je'Ney Jackson did this winter was second-to-none and Beaty's bunch now looks much more physical and plays with more explosion. We'll see some of that this spring
3. Calling all leaders — With former defensive lineman Ben Goodman out of eligibility, leadership becomes an area worth watching. Safety Fish Smithson and Cozart both served alongside Goodman as team captains in 2015, but you have to think at least one or two other players will emerge as leadership material. My money's on junior linebacker Joe Dineen and sophomore D-End Dorance Armstrong on D and junior tight end Ben Johnson and Willis on offense.
4. Transfers and newcomers — Players people don't know much about or haven't seen always excite and the Jayhawks have a handful this spring. Defensive tackles Isi Holani and DeeIsaac Davis along with cornerback Stephan Robinson transferred in at semester and all three are likely to play key roles this fall. Add to that the eligibility of wideout LaQuivionte Gonzalez, the addition of walk-on wide receiver Keegan Brewer and the arrival of former 2015 prospects Cam Durley (OL) and Shola Ayinde (DB) and you're looking at a team with some intriguing new pieces.
5. Hey, coach — Five new full-time assistants — Jason Phillips (WR), Todd Bradford (LB), Joe DeForest (ST), Michael Slater (DL) and Tony Hull (RB) — will be on the practice field for the Jayhawks today, which means there will be more newcomers on the coaching staff than returners. Their roles and success during spring practices will not be nearly as vital as what they will be in August and throughout the 2016 season, but it still will be interesting to get a first look at the different coaching styles, how they interact with the players and how they operate under Beaty.
6. Kicking game status — Will this be the season when KU finally gets some consistency from its kicking game again? Senior Matthew Wyman, who has handled all three roles (kickoff, field goal, punt) in various capacities during the past few seasons, is the most well-known returner of the bunch. But junior place kicker Nick Bartolotta also returns and newcomer Quinton Conaway, a freshman walk-on who started his career with the Oregon Ducks should provide stiff competition.