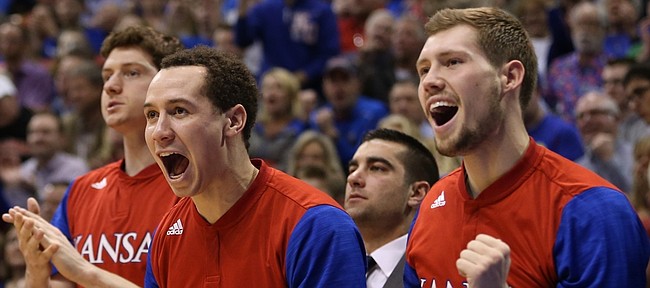 Second-year Wake Forest basketball coach Danny Manning knew, no matter what, he'd be in Lawrence on March 5, 2016 for the Senior Day/Allen Fieldhouse swan-song of his son, Evan.
"My dad actually had one schedule request for Wake Forest (when taking job). That was for him to be able to come back here for this game," Evan Manning, KU's 6-foot-3 senior guard from Free State High and New Hampton (N.H.) Prep School, said proudly.
He was referring to Saturday's 3 p.m., Senior Day contest versus Iowa State.
"He's gotten to make it to a couple other games this year. Coach (Bill) Self put me in for a couple of 'em because he knew he was here. That was cool for him (Self) to do. I'm really excited to have my family in town for the game. I'm looking forward to it," Evan added of Danny, mom Julie plus sister Taylor, who lives in Portland, Ore.
Evan, who averaged 7.7 points, 3.3 rebounds, 2.8 steals and 2.4 assists per game his senior year at FSHS, then went on to net just under 10 points and six assists per contests in 2011-12 at New Hampton, Prep, turned down a chance to play for his dad, who was at Tulsa at the time, and declined overtures from several small colleges in April of 2012 to fulfill a dream to play for KU.
Evan lived in Lawrence from 2004 to '12, the years his dad was on staff at KU.
"That would have been cool," Manning said of perhaps earning lots of playing time at a small college, "but this has always been my dream. I don't regret this at all and don't think I ever will. This place has been too good to me to ever think about 'what ifs.' I love it here. I wouldn't trade what I have, wouldn't trade my teammates for the world and everything I learned."
Manning also has three Big 12 title rings in his possession with a fourth soon to be fitted in recognition of KU's 12th league title in a row.
Winning at a tradition-rich school like KU has been utterly rewarding, Evan indicated.
"When we were here as freshmen, me, Perry (Ellis), Lando (Landen Lucas), Ty (Tyler Self) and Mari (Jamari Traylor) ... we were all around Travis and they did that (2012) Late Night skit where he (Releford) had all his rings out. That was something. We looked at him and were like, 'Hey when we leave here, we want to be like that. We want to have those opportunities to put ourselves in position to win the championship each year.' We've been lucky enough to do that. That's been our goal."
Self, who has directed KU to the 12 titles, applauds the contribution of Manning, who has scored 26 points and dished five assists in games and worked diligently on the scout team at practice thus far during his walk-on career.
"He gets it. He is smart. He is a great scout team guy," Bill Self said. "He had the opportunity to go to other places but wanted to be here and loves KU.
"Evan will be successful in whatever he chooses to do. He got his degree in athletic administration so there's several different avenues. He'll have opportunities and certainly make the most of them."
Manning this semester (as well as Perry Ellis and Tyler Self) has been working an internship around KU athletics. He started with the marketing department, moved on to facilities and will finish with the Williams Fund. Once he hits 600 hours, he'll be eligible to receive his diploma and walk the hill in May.
"We get there at 8 a.m. and work until we have to start doing stuff for practice," said Manning, who after graduation, will begin a summer internship for Pro Camps based in Cincinnati. "For marketing I help fold the T-shirts they throw out during the games, set up the Fun Zone for women's games. A lot of brainstorming for football and helping get ideas going, that type of thing.
"It's a lot different than class. It's a lot more fun. They give us stuff to work on, kind of more freedom than a class. It's cool."
What will be really cool, he admits, is starting for KU in his final home game. Self has a tradition of starting his seniors, meaning Manning, Ellis, Jamari Traylor and Hunter Mickelson will start versus the Cyclones.
"Playing with my guys, I'm going to be really excited, happy to be out there," Manning said. "I'll play hard for the time that I can get. Hopefully I'll contribute a little bit."
Then after the game, he'll give a short speech to the fans.
"I think I have the highest probability of crying out of everyone," Manning said with a smile. "The last few games we're running out of the tunnel, the whole time I'm thinking, 'Man I'm going to miss this.' Seeing all these people here, the love of KU basketball ... to be part of it is special. I'm going to miss it."
Manning is through playing after this year. He won't be heading to Europe to play for pay.
"This is the end of that," he said. "I'm going to hang 'em up here, so to speak."
Chances are he'll work in the sports field, maybe the world of basketball.
"I like the competitive nature of sports, being able to be part of something where you can help guys get a victory in some manner. I think that's a great feeling," Manning said. "I've got some time to maybe get a GA (grad assistant) job in the next year or two. I think right now I might want to step away from it a little bit. Basketball is definitely a passion. I know I'll get back to it. I just might need a little break from it after this."
More like this story on KUsports.com