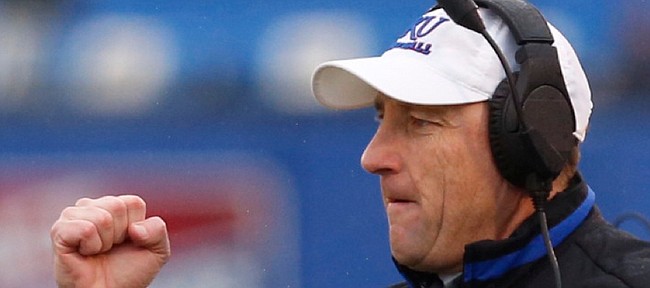 During the past couple of months, Kansas University football coach David Beaty continued his quest to mingle with supporters outside of the immediate area, visiting Denver, Tulsa, and various spots around the state to meet with KU fans and hear their questions, concerns and support for the rebuilding program.
While the specifics of these events can vary from place to place, the theme always remains the same and features Beaty preaching hard work and asking for patience from the fan base.
Beaty knows KU football fans have been through a lot during the past seven seasons, and, although he's sympathetic to the constant string of disappointment they've had to endure, he has not exactly been shying away from drumming up hope for the 2016 season and beyond.
Asked at one of these recent events how the fans should measure success during the upcoming 2016 season, the energetic and enthusiastic second-year head coach did not guard his answer.
"You measure success this season just like you do every other season," Beaty began. "Have we improved and have we won games? We came here to win, not just to talk about, 'Hey let's do great things,' and all that stuff. We gotta win. We gotta win some games. And that starts with one. We are focused on going 1-0 against Rhode Island (Sept. 3 season opener). I honestly don't even know who else is on our schedule. I am focused on that game. And our kids are too."
Although there are some signs that Beaty and company are making progress — strength coach Je'Ney Jackson is getting results in the weight room, team depth is improved and recruiting in the 2017 class is off to a strong start — it's difficult to know, or even guess, how any of those elements will impact KU's chances at victory this fall.
Oddsmakers in Las Vegas have KU's over/under win total at 1.5 games, but a pair of national college football analysts have deemed KU's non-conference schedule as one of the easiest among Power 5 Conference schoools.
Bruce Feldman, of FOX Sports, lists KU's non-con slate as the second easiest in the Power 5 and ESPN.com's Football Power Index placed the Jayhawks eighth on a similar list.
If the latter turns out to be closer to true than the former, KU's odds at multiple victories this season certainly increase. But, three weeks into summer workouts and roughly a month ahead of the start of preseason camp, Beaty and company remain fixed on a singular focus.
"We have one rule," Beaty said recently. "When you walk through that building you better have a smile on your face. That's it. We're excited. We're fortunate. We're blessed to be here and we are so lucky. So we get up and run every day because there are so many people that want to be right where we are. And that's how we control our psyche. We control it by knowing what the future holds because the work's being put in and they know (good things are) coming. If (they weren't), they'd be quitting.
"But we make sure they understand from the day we walked in what it means to keep going no matter what and what it means to have a plan in mind and to know you're making progress."
More like this story on KUsports.com