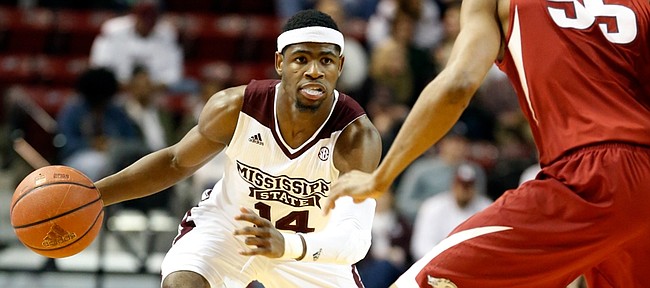 As expected, five-star guard Malik Newman ended up being a one-and-done at Mississippi State, just not the way the basketball world envisioned.
Newman, a 6-foot-3, 190-pounder from Jackson, Miss., who arrived at MSU as Rivals.com's No. 8-rated player in the recruiting Class of 2015, declared for the 2016 NBA Draft after averaging 11.3 points, 2.8 rebounds and 2.2 assists for the (14-17) Bulldogs.
After receiving so-so reviews at the NBA Combine and in individual workouts with the Chicago Bulls, Milwaukee Bucks, Brooklyn Nets and New York Knicks, he pulled his name out of the draft, then promptly announced plans to transfer from the SEC school.
Newman — who chose MSU over Kentucky, Kansas University and North Carolina State the first time around — today as a prospective transfer begins his fifth and final official recruiting visit to KU.
He already has trekked to Oregon, Western Kentucky, Miami and N.C. State.
"Injuries (turf toe, back) slowed Malik down this year," ESPN's Fran Fraschilla told Zagsblog.com. "He had a couple moments of brilliance at the Combine (where he averaged 6.5 points and 1.0 assists in two games), but I think it's best to put together a solid sophomore season."
Newman — he hit 39.1 percent of his shots last season (37.9 percent from three; 68.7 from the free-throw line), would be able to practice at KU against the likes of Josh Jackson, Devonté Graham, Frank Mason III, Svi Mykhailiuk and Lagerald Vick this season while being eligible to play in games in 2017-18 season.
"I just think it was the injuries," Newman told Zagsblog.com when asked of his experience at MSU. "I mean, nagging injury after nagging injury. I never could get 100 percent during the season. That's really the only thing I can think of.
"I feel like the only thing I have to prove is that nothing has changed about Malik Newman," he added in a mid-May interview. "I feel like I'm healthy right now, I'm 100 percent and it's just all about going there showing that I can play with these elite guys and I am an elite guy."
Ben Simmons, the No. 1 player in the class, also played for a team (LSU) that did not qualify for the NCAA Tournament. Newman was asked if the lesson to be learned was top prospects need to attend blueblood schools, where an NCAA bid is all but guaranteed.
"Of course not because everything that I went through at Mississippi State made me the person that I am right now today," Newman told Zagsblog.com. "And so who says that I go to Kentucky or even (Simmons) goes to Kentucky and our seasons still don't turn out the same? So I mean just because it was a thing of it's Kentucky and Kentucky is a blueblood school ... I feel like a school is a school and it's up to the team to prove how far that team goes."
He has not announced yet when he will choose his new school.