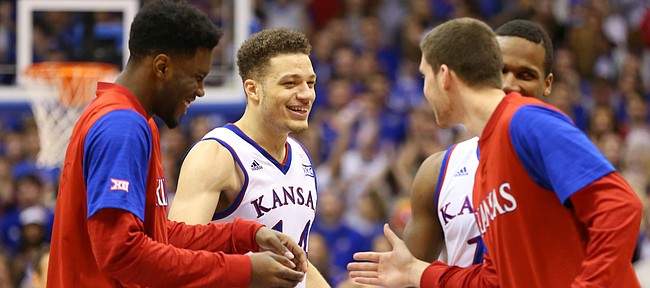 Former Kansas University guard Brannen Greene will play NBA summer league for the Memphis Grizzlies, while forward Jamari Traylor will compete for the Indiana Pacers, it was revealed Tuesday.
The 6-foot-7 Greene, who like Traylor was not selected in last week's NBA Draft, averaged 5.4 points a game his junior season. He hit 31 of 63 three-pointers for 49.2 percent. The 6-8 Traylor averaged 2.9 points and 3.2 boards per game. He had 33 blocks in 37 games his senior campaign.
The Grizzlies play in the Las Vegas summer league July 8-18. The Pacers will practice this week then open play in the Orlando summer league starting Saturday.
Undrafted former KU forward Hunter Mickelson, who still could possibly land a spot on an NBA summer league team, will play in the Czech Republic for Turi Svitavy if he's not in the NBA. The Czech team has introduced the 6-9 Mickelson on its Website at the address http://bit.ly/291fi0D. He averaged 2.3 points and 2.4 boards with 23 blocks in 26 games his senior season.
Former KU guard Wayne Selden Jr., who also was not drafted, is expected to accept a summer league offer from an NBA team in the near future.
"For those of you asking about Wayne Selden Jr. and summer league, he's weighing options. He turned down draft-and-stash opportunities on draft night," wrote Alex Kennedy of Basketball Insiders. Draft-and-stash is when an NBA team will draft a player with the stipulation he plays in the D-League or overseas, at least at first.
Undrafted Perry Ellis will play for the Dallas Mavericks in the Vegas summer league and second-round pick Cheick Diallo for New Orleans in that league as well.
NBA hopefuls do not become wealthy by playing summer league basketball. Hoopshype.com reported that the compensation for 2015 summer league players was a per diem of about $127 per day, plus a hotel room and travel expenses. Players also sign an injury waiver allowing the team not to be liable in case of injury.
Josh talk: KU freshman guard Josh Jackson was subject of a feature story in ESPN's The Undefeated Magazine.
"I definitely can see myself being a one-and-done. If at the end of my freshman year if I feel like I'm ready to enter the draft, then I will do it," said Jackson, who is currently listed as Chad Ford's top prospect in college basketball and the No. 4 pick in the 2017 Draft according to draftexpress.com.
Writes Ford: "Jackson is an athletic, dynamic wing who excels on both ends of the court. His combination of length, athleticism and motor is outstanding. He's also a very good and willing passer who displays a terrific basketball IQ. He has a nose for the ball on both ends. You'll find few players in this draft — or any draft — who play with his competitive fire at such a young age. He already looks like he's a consistent jump shot away from being a superstar in the NBA."