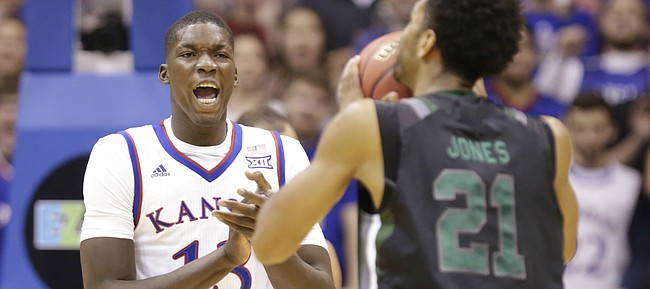 Oklahoma's Buddy Hield and Kansas University's Cheick Diallo, the first- and second-round picks of the NBA's New Orleans Pelicans, addressed the media together on Friday in New Orleans and faced questions about … last season's triple-overtime battle between the Sooners and Jayhawks. What else?
"It was fun, up-and-down, tired, fatiguing. All the guys were fighting heartfelt for the team trying to get the win," said Hield, who scored 46 points in OU's 109-106 loss to Diallo's KU team on Jan. 5 in Allen Fieldhouse.
Diallo's take on the game generated laughter from media members.
"I mean, I was on the bench," Diallo said. "I was like, 'Wow, that No. 24 (Hield) is good.' I was like, 'Wow, he can shoot it. Somebody needs to stop him.' He was getting buckets everywhere. I was like, 'Wow.'"
Diallo had no points and one rebound while playing just five minutes in the instant classic.
"I tell him he's still a Jayhawk at heart. Thank God he's my teammate now," Hield said of Diallo.
Diallo, who attended Thursday night's draft proceedings in Brooklyn, said Friday he was a bit worn out emotionally by the time he was selected by the Los Angeles Clippers with the third pick of Round Two. L.A. promptly dealt the 6-foot-9 Mali native to New Orleans for a pair of second-round picks who turned into David Michineau and Diamond Stone.
"My name got called, I was like, 'Wow, I'm going to the Clippers.' After some people kept texting me, 'Oh, Cheick, you are going to New Orleans,' I was like, 'OK. I'm not going to say I'm not going there. They traded two people to get me. I want to do anything to make them look good, too.' I'm going to work hard every day, go 100 percent every workout. I don't want to take a day off. They gave up something for me. I have to give something back."
Diallo, 19, who averaged 3.0 points and 2.5 rebounds in 7.5 minutes a game during his one-and-done season at KU, on Thursday night told NBA.com he was not pleased about the first-round snub.
"I feel not respected being picked 33," he said. "I was mad a little bit, but I don't want to get mad because I didn't get in the first round. I just want to keep moving forward. I just want to keep fighting and prove everybody wrong. There is nothing I can do, so I just have to take it. You can't (worry about) things you can't control. I think New Orleans is the best fit for me. Going to New Orleans is a new start."
The Pelicans were willing to give up two picks to make sure they could land Diallo, which just about guarantees his landing a guaranteed contract with the team.
"We really targeted this guy," Pelicans GM Dell Demps told NBA.com. "We were surprised he was there. We didn't want to take the chance (of missing out on him). We had him rated higher (than a 33rd pick). He's a young player who is inexperienced. There is going to be a growing curve. But one thing I can assure you is you'll never see a lack of effort there. His motor is amazing."
KU coach Bill Self had said before the draft NBA teams were definitely intrigued by the big man's motor.
"I'm an energy guy. I box out, rebound the ball and protect the rim," Diallo told NBA.com. "That's what I do. I just want to do everything to make my team look good. I just want to run the floor, block shots and get rebounds."
Faraway scouting: KU assistant coach Kurtis Townsend is in Zaragoza, Spain, watching the FIBA Under 17 World Championships. According to Zagsblog.com, coaches from UCLA, Oregon, North Carolina State and St. John's are also in Spain, taking advantage of a new rule that allows college coaches to recruit at any FIBA world championship event. KU still has two scholarships available in recruiting the Class of 2016, though it is believed most coaches are recruiting players in the Class of '17.