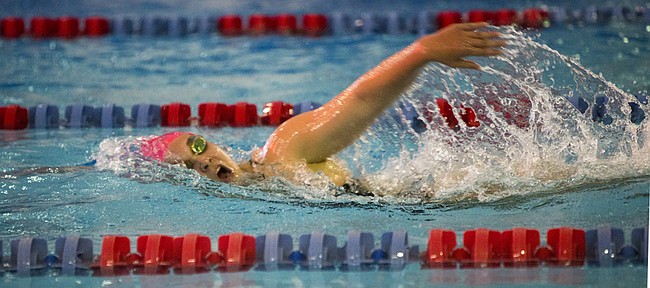 Five women with ties to Kansas University swimming will join hundreds of other Olympic hopefuls this week in Omaha, Neb., at the CenturyLink Center for this year's U.S. Olympic Trials.
The event, which features 31 pages of heat sheets and some of the biggest names in swimming, including former Olympic greats Missy Franklin, Ryan Lochte and Michael Phelps, will begin today and run through July 3.
KU All-American Chelsie Miller along with sophomore-to-be Libby Walker will join former Jayhawk Danielle Herrmann (100 breastroke, 200 IM) and incoming freshmen Haley Downey (200 breaststroke) and Jenny Nusbaum (200 freestyle) in the field. The event, which is sold out, is expected to draw as many as 200,000 spectators over 15 sold-out sessions and both KU swimmers from the 2015-16 roster said the mere thought of that adds to both the fear factor and excitement.
"I think we're both kind of a little intimidated going into the meet because it is such a high-level meet with so many pros and people who have done this before and gone to the Olympics," said Miller, 22, who also competed at the event in 2012 and will swim the 200 IM, 400 IM and 200 butterfly. "Just being there and walking around knowing you're competing with them is intimidating, but you kind of get used to it and there's also a lot of excitement that goes with it too."
Dubbed the fastest meet in the world, with a deeper and arguably more impressive field than the Olympics itself, this week's trials will feature swimmers of all ages and levels competing for various goals. The top goal, of course, is to qualify for the U.S. Olympic team. But since only the top two in each event get that honor, there are several other more easily attainable goals in play, as well.
"For me, getting some experience swimming with this level of athlete will be huge," said Walker, 19, who will swim the 200 butterfly and, just last week, also earned a spot in the 400 IM. "Going for best times would be awesome, but just swimming those events this summer gives me confidence going into college season."
Both KU swimmers said they expected to know a handful of people on the pool deck from previous stops in their swimming careers, and Miller, who is seeded 18th in the 400 IM, said she was hoping to crack the top 16 and reach the finals in that event.
"Most of all, though, I just want to have fun with it, really," she said. "The meet is insane. They make it a huge production and it's a lot of fun to watch, too."
More like this story on KUsports.com