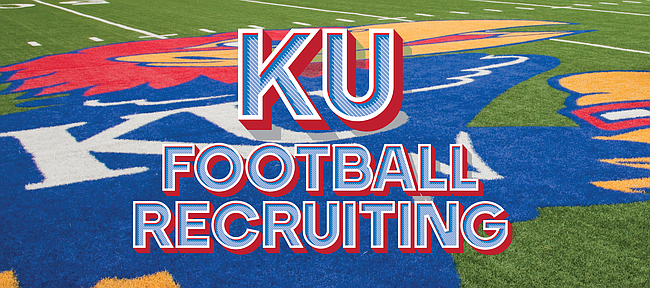 The Kansas football program picked up another three-star commitment on Wednesday, marking a big day for both the player and the program.
For the program, the addition of Akayleb Evans, a 3-star safety out of McKinney, Texas, marked the fourth such player to commit to the Jayhawks, who now have commitments from nine players in the 2017 recruiting class, five of which are 3-star prospects or better.
For the player, the decision to orally commit to Kansas made his birthday an extra special day.
"I'd like to celebrate my birthday today by announcing my verbal commitment to continue my academic and football career at the University of Kansas," Evans wrote on Twitter. "Thank you to my family and friends, MHS coaches and teammates, my trainer, mentor and everyone who supported me getting to this point. Thank you to the Kansas coaches for inviting me to be a part of something great."
The 6-foot-2, 180-pound Evans picked Kansas over offers or strong interest from Iowa, Iowa State, SMU, TCU and Tulsa.
Rivals.com listed first-year linebackers coach Todd Bradford as the lead recruiter for Evans, who joins 4-star Louisiana native Mike Lee as the first two defensive backs to commit to KU in the 2017 class.
Evans told Jon Kirby of JayhawkSlant.com that he and his parents were blown away by KU's facilities, campus and the way they were treated during their visit to Lawrence this spring.
"They loved the visit a lot more than they thought they would," Evans told Kirby. "We were all surprised when we got there because it was more than we expected."
There remains a long way to go until the 2017 classes are finalized in February, but, so far, KU coach David Beaty and his staff — most of which is in its first year at Kansas — is off to a strong start. Several recruiting sites have KU's 2017 class ranking in the Top 7 in the Big 12, a far cry from the more familiar 9th or 10th-place slots the Jayhawks have been used to during the past six seasons.
The Jayhawks likely will have to endure a second consecutive signing class that falls short of the 25-player maximum allowed by NCAA rules because of transfers and other players who KU counted forward to get on campus sooner.
But Beaty and company should be able to add around a dozen more players in this class and if they continue to commit with the accolades and pedigree of those who have already, the Jayhawks should have no problem holding onto that Top 7 status and could, perhaps, move up a spot or two.
More like this story on KUsports.com