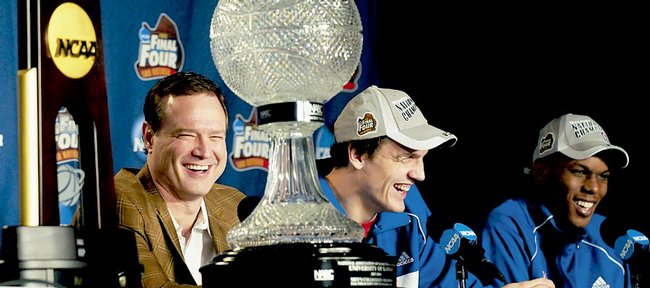 Steve Kerr knows what it takes to win an NBA championship.
He won one as a player when Michael Jordan drove into the lane and hit him with a pass on the perimeter for an open shot in 1997, Game 6 against the Utah Jazz.
Kerr won one a year ago as a coach with the Golden State Warriors.
So when Doris Burke asked Kerr what his team needed to do in the final 12 minutes, she was asking someone who knew the answer.
"Trust each other," Kerr said. "We got a little away from that in the third quarter. Keep moving the ball and good stuff happens."
Kerr no doubt hammered home the trust-each-other point to his players in the huddle before the fourth quarter started. They defied his instruction, slipped into solo mode, and became the first team to take a 3-1 series lead and lose the NBA Finals. In the final 12 minutes, MVP Steph Curry made 1 of 6 shots and committed a French pastry turnover.
The more talented the player, the more difficult it is to put trust in less talented players. Today's NBA players only remember the Michael Jordan who rattled off six championships. They don't remember the ball hog who didn't win his first championship until his seventh season.
It wasn't until Phil Jackson convinced Jordan to trust his teammates that the Bulls won championships.
No way a younger Jordan passes the ball to Kerr on the perimeter for the game-winner.
Kerr wasn't the first to sound the trust-your-teammates theme during the postseason.
We'll never know whether the Oklahoma City Thunder could have beaten the Cavs. We only know that the Thunder took a 3-1 series lead on Golden State and lost three in a row to the Warriors. In the wake of that, Charles Barkley, the most entertaining, candid commentator in any sport, pinpointed what it was going to take for Kevin Durant and Russell Westbrook to win a championship. They need to learn to trust their teammates, Barkley said.
Throughout this year's entertaining NBA playoffs, watching players respond to inner voices telling them to dominate, it occurred to me that Kansas coach Bill Self's stock must be rising in the eyes of NBA executives. He's terrific at making players trust each other. It also occurred to me that leaving his great gig to coach an NBA team must become less appealing to him every time he sees pros go solo. Don't forget, Thunder coach Billy Donovan had a knack for making players trust teammates at Florida, too. NBA players don't listen to their coaches the way college athletes do.