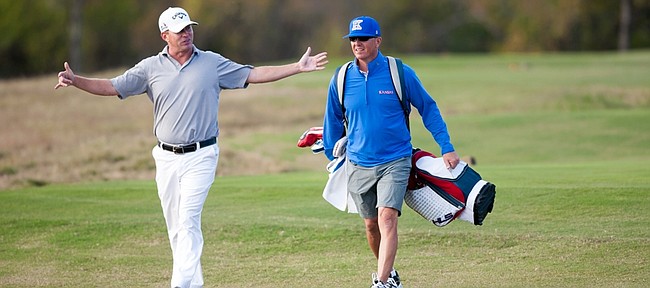 As Twitter was blowing up with some of the world's greatest golfers mocking the USGA for messing with Dustin Johnson's head for telling him in the middle of his final round Sunday that he might be assessed a one-stroke penalty after he finished, another professional golfer who had a good week was behind the wheel of his car, making his way from Nashville back to Lawrence.
Until this past week, this had been the summer of near misses for Chris Thompson. He missed making it out of a local U.S. Open qualifier by a stroke, missed qualifying for the Byron Nelson by a stroke and had a number of other close calls that went the wrong way, including a shot at what would have been his first sub-60 round when he broke his own Lawrence Country Club course record with a 60.
Thompson left nothing to chance at the qualifier for the Nashville Golf Open, a Web.com Tour (one step below the PGA) event. He fired a 9-under 63 to qualify, made the cut in his first Web.com tournament of 2016. Not only that, he finished tied for 23rd, a big number because the first 25 finishers automatically qualify for the next tournament on the Web.com tour. So after not qualifying for any Web.com events, he will play in two in a row.
A two-time All-American at Kansas University, Thompson, who turns 40 on July 11, will be in the field at the Air Capital Classic at Crestview Country Club in Wichita.
He returned to Lawrence past midnight Sunday, did some laundry, went to his son's baseball game Monday night and planned to drive this morning to Wichita to get in a practice round at Crestview for the four-day tournament that runs Thursday through Sunday.
Since Gary Woodland fell short of qualifying for the U.S. Open, Thompson didn't have another Jayhawk for whom to root, but said he did have a rooting interest.
"I'd like to see Dustin Johnson win it," Thompson said by phone during his drive from Nashville. "He's an incredible talent. If he gets this one, he gets the monkey off his back and he'll start piling them up."
Johnson shook the monkey, even if he was assessed a penalty because his golf ball moved toward him on the green when he was taking practice swings with his putter. (How could he have made it move toward him? Nature did that.) Johnson was sure nothing he did made the ball move, but the USGA officials, who handled the whole thing horribly, disagreed.
Thompson had no such troubles in Nashville. He carded 66-74-69-73 for 6-under total, a finish that resulted in $4,693 being direct-deposited in his account and gave him a spot in the Wichita field.
Thompson averaged 291.5 yards off the tee in Nashville, where he said the heat of his putter largely accounted for the fluctuation in his scores.
"I putted great the first day and didn't make any putts the last three days," Thompson said.
He did, however, make a flurry of birdies at the end of his third round, on 13, 15, 16 and 18. Even I never have done that.
This is a good time for the quiet, confident, cerebral stick to get hot since he's playing in a tournament in which he has done well in the past. Thompson earned $19,581 when he tied for seventh in the 2013 Air Capital Classic.
To understand what a first-place finish in Wichita would do for Thompson's career, consider what winning in Nashville did for James Driscoll. He entered the tourney ranked 144th on the web.com money list and vaulted all the way to 17th with his $99,000 check. The top 25 at the end of the season earn PGA tour cards. Thompson could make a similar leap by winning a tournament, which also would put him in the rest of the tour's events.
Thompson's good enough to do it, as are a number of other players in the field. It's just a question of which player gets the hottest with the putter for those four days.
While Thompson played his way into the hunt for a title in Wichita, Woodland was in Lawrence, playing in the Lawrence Country Club member-guest as a guest of KU's Deputy Athletic Director, Sean Lester.
"I withdrew from the U.S. Open to play in it," Woodland joked.
Technically, Woodland wasn't the only pro in the event, which was played with full handicaps and won by amateurs Terry Clark and Bill Grosdidier. Lawrence resident Greg Sharp took himself out of contention for amateur tournaments when he accepted a $600 check after finishing tied for 33rd in the Colorado Senior Open the first weekend in June at Green Valley Ranch Golf Club. Hall of Fame quarterback John Elway, general manager of the Denver Broncos, finished one stroke better than Sharp in a tie for 29th.
Sharp, a mad bomber off the tee known for trying and sometimes pulling off high-risk shots, could have finished ahead of Elway if not for carding a 9 on the 18th hole of in the first of three rounds.
"I'm done," Sharp said of his amateur status.