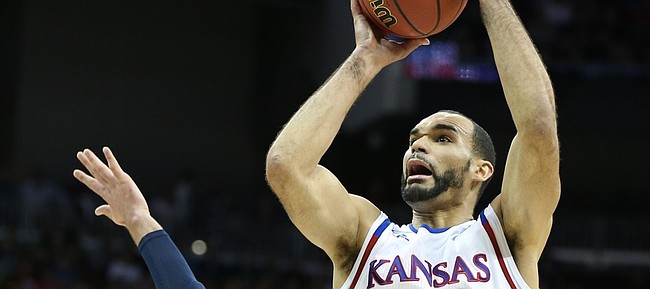 Perry Ellis worked out for the Philadelphia 76ers on Monday, then returned to his hometown of Wichita to relax a bit before Thursday's NBA Draft. He'll watch the proceedings on TV with family and close friends in Wichita.
"Exhausting but fun," Ellis, the eighth-leading scorer and 12th-leading rebounder in Kansas University hoops history told NBA.com, referring to traveling to facilities in Philly, plus Milwaukee, Atlanta, San Antonio, Phoenix, New Orleans, Toronto, Boston, New York and Los Angeles for both the Clippers and Lakers.
"It's fun because not many people get to go through it. It's a once-in-a-lifetime thing. I'm just enjoying it and working hard," the 6-foot-8 forward added.
To csnphilly.com he added: "It felt like time was moving so slow through these workouts, but it's finally over. You hope hard work pays off."
Through the process, Ellis has managed to accumulate a batch of NBA apparel in his size.
"From each workout we get a bag of gear. It's pretty cool to take it home and when all is said and done say, 'During my time … the draft process, these are the teams I worked out for.' I've already had some of my friends say, 'Let me get gear from there.' I'm happy to give it to them," Ellis said, smiling.
As a guy projected to go in the second round — some say he'll be an undrafted free agent — Ellis has been asked the same question at various stops: "What makes you NBA ready?"
"(I'm) a guy I feel can do a lot of things. Get out and guard guards, defend bigger guys also. I feel that will be key," Ellis said.
"I can be a 3-, 4-man. It depends on the team, whatever will fit best. I feel I can do a little of both. Whatever the team may need I can mold myself into doing, I think."
On Monday, Ellis' every move was observed by Sixers director of operations/scouting innovation Vince Rozman. Others to work out: Villanova's Ryan Arcidiacono, Old Dominion's Trey Freeman, Buffalo's Justin Moss, New Mexico State's Pascal Siakam and Stony Brook's Jameel Warney.
"Perry's skilled," Rozman told csnphilly.com. "He's a really, really good offensive player for his size. He's versatile. He has a chance. He's so productive throughout four years of college."
Ellis also visited with his former KU teammate Joel Embiid, the Sixers' overall No. 3 pick in the 2014 draft.
"He was such a smart guy, it was impressive," Ellis said of 7-footer Embiid. "He picked up things so fast. You could just see his footwork was good. He's going to be a great player."
As to what he will expect in watching the draft Thursday, Ellis said: "It's up in the air. I don't know. I'm just going to go out there to be with family, just watch and see what happens."
Alma maters benefit: Ellis has donated one of his KU jerseys to Wichita Brooks Middle School and one to Wichita Heights High School.
KAKE.com reports that Heights will put Ellis' jersey in its trophy case next to the four state title trophies Ellis helped the Falcons win. Brooks will hang the jersey in a display case next to a working video of a motivational speech Ellis recorded for students.
"That was the first thing that I thought about was giving a jersey to my old coaches, old schools. It's just something, it's just a great feeling," Ellis told KAKE.com. 
"I'm awfully proud of him, and anything we can do to recognize his accomplishments and motivate our young kids out here," Ellis' high school basketball coach at Heights, Joe Auer, told the TV station.
More like this story on KUsports.com