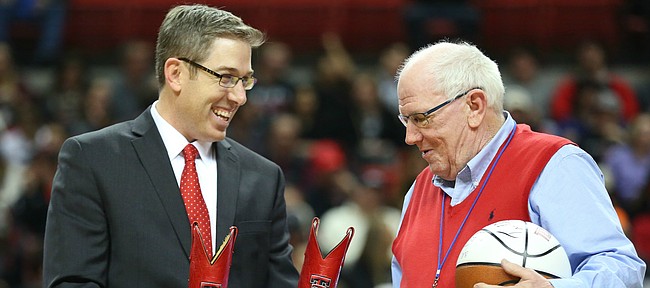 Fresh out of Topeka West High, with a clear vision of what direction he wanted to take his life, one of the first classes Brian Hanni ever enrolled in at Kansas University in 1998 was Tom Hedrick's Sportscasting 101.
It was a difficult class taught by a tough educator and veteran broadcaster and it not only set the bar for what Hanni one day wanted to be, but also delivered a signature moment in his life that allowed him to pinpoint, beyond a shadow of a doubt, what he would go on to refer to hundreds of times as his dream job.
"When I went in for my final exam, which, in Tom's class, is a formal interview, dressed to the nines, the whole bit," Hanni began. "I was able to raise my grade from a B+ to an A-. Well, the last person to get an A in Tom's class was Kevin Harlan, so as I walked back to Oliver Hall from the Dole Center that afternoon, I was feeling about two inches taller, skipping and singing, thinking to myself, 'You know what, it may take 20 or 30 years, but if Kevin got an A and I got an A-, maybe someday I could be the voice of the Jayhawks, like Tom was and like Bob (Davis) and Max (Falkenstien) were.'"
Hanni's someday arrived Tuesday afternoon, when he learned from Kansas athletic director Sheahon Zenger via telephone that he was the choice to be the next play-by-play voice of Kansas basketball and football, succeeding Davis, who retired this season after holding the post since 1984.
The call came as Hanni, 36 and now the men's basketball and baseball play-by-play voice of Texas Tech, was out for a jog in Omaha a couple of hours before the Red Raiders played an elimination game at the College World Series. With it, came one of the most memorable moments of Hanni's life.
"I was jogging by the corner of 13th and Howard, an intersection I'll remember for the rest of my life," Hanni said. "And, as my Fit Bit started to buzz, I looked at my left wrist and saw it was Dr. Zenger. When he told me I got the job, I fell to my knees, my eyes started to well up with tears and I prayed with great gratitude, because this has been one of the biggest dreams of my life."
The hire was made official via a press release from KU just after 3:30 p.m. Tuesday. That was the exact moment that Hanni's pre-game show for Texas Tech's upset of No. 1 overall seed Florida began. So while he sat in the booth calling one of the biggest baseball games in Texas Tech history, KU fans across the country were reacting to some of the biggest news of Hanni's life.
By the time he was off the air, Hanni had 251 unread text messages and enough joy running through his smile and eyes to light up an entire city block.
"I was overwhelmed with emotion and, at the same time, trying to stay focused on the call at hand, one of the biggest calls of my career," Hanni said. "So, starting with that phone call and then calling a win for Texas Tech's first ever College World Series victory, it's easy to say this has been the biggest, greatest day of my life."
The day was made possible by a calculated series of decisions over the past 15 years, made by Hanni with his dream in mind. First was college and getting on the fast track to getting into the business. Then, after graduating in 2002 and taking a job with Lawrence radio station KLWN, Hanni attacked his new role with great enthusiasm. He started by calling high school games and later started up Rock Chalk Sports Talk, a daily sports show on the Lawrence station that covered KU athletics and Lawrence sports.
Former KU basketball player Brett Ballard worked as a co-host with Hanni on those early RCST shows, and Ballard said Tuesday that he knew, even then, that Hanni was headed for big things.
"Brian is extremely passionate about his work," Ballard said. "And the combination of being extremely passionate about the product and also about Kansas athletics is what inspires him to put in a lot of time and effort into the product that you hear. He's just very committed.
"He loves Kansas Athletics and he respects KU. That's what makes him good. There are guys that are naturally talented, but not all of them put in the kind of work and operate with the kind of passion that Brian does."
With things rolling at KLWN, Hanni was happy but always believed he needed to do more to truly position himself for a shot at that dream job if it ever came open. So in 2012, after turning down a play-by-play opportunity two years earlier to go to a smaller school outside of the Big 12 market, Hanni made the jump to Texas Tech.
"It was definitely a gamble," Hanni said. "But I really felt like I needed to go grow up and get my own major conference job and I was really fortunate to be able to go to a great institution like Texas Tech and work with some amazing people. At the same time, not a day went by during those four years that I didn't think about coming home."
Hanni knows he has big shoes to fill in replacing Davis, but Zenger, through a news release said he was confident Hanni was up to the task.
"Naming a replacement for an institution like Bob Davis was a very difficult proposition," Zenger said in the release. "We view this position as not only a radio voice, but as an ambassador for Kansas Athletics and our university. We received interest from many well-established broadcasters; ultimately we felt that Brian's talent as a broadcaster, his positive outlook and his proven connection with the community separated him from the other outstanding candidates."
Hanni, who has remained very active in the Lawrence community since his departure, most notably with his annual Rock Chalk Roundball Classic charity game that benefits children with cancer, also will host "Hawk Talk," the weekly radio shows of football coach David Beaty and men's basketball coach Bill Self, and perform other duties as assigned by Kansas Athletics.
A source with knowledge of the search told the Journal-World that Davis' son, Steven, the play-by-play voice of UMKC basketball and Kansas baseball, and Josh Klingler, a 610 sports radio morning co-host and current employee of Jayhawk IMG Radio Network, joined Hanni as finalists for the job.
After finishing up with Texas Tech in Omaha this week, Hanni will head back to Lubbock, Texas, to sell his house and plans to arrive in Lawrence to start his new job as close to Aug. 1 as possible.
He knows it comes with big expectations, and an even bigger shadow, and said it was the honor of his life to be chosen to follow Davis on the microphone for Kansas athletics.
"He's a living legend," Hanni said of Davis. "He does it as well as anyone. I grew up listening to him and was inspired to pursue broadcasting in large part because of him. Replacing him is not something that anybody sets out to do. I have to kind of go out and be my own broadcaster and do things the way I was taught and cultivate my own style because nobody is going to completely fill the shoes of a guy like Bob Davis."
Here are a few audio clips from Hanni's days at Texas Tech...
More like this story on KUsports.com