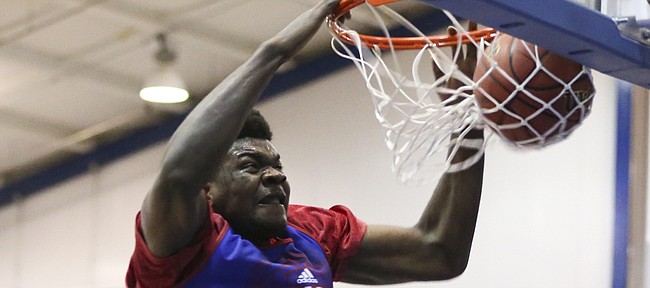 Kansas University freshman power forward Udoka Azubuike, all 7-feet, 270 pounds of him, dribbled the basketball past half court and, after a sweet cross-over dribble move, re-accelerated, attacked the hoop with two hands and slammed in the face of former Jayhawk forward Kevin Young on Wednesday in Horejsi Center.
Young could only stop and smile as Azubuike pounded his chest, then flexed to the delight of several hundred Bill Self campers who watched the advanced 16-year-old abuse the rims to the tune of 26 points in his Blue team's 111-88 victory over the Red squad.
Photo Gallery
Kansas basketball scrimmage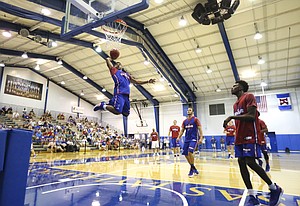 Kansas players new and old got together for another scrimmage during the Bill Self basketball camp.
Box score
BLUE (111)
Josh Jackson 9-13 0-0 19, Frank Mason III 13-17 0-0 29, Udoka Azubuike 13-15 0-0 26, Carlton Bragg, Jr. 11-20 0-0 22, Clay Young 1-2 0-0 2, Brady Morningstar 5-6 0-0 11, Justin Wesley 0-0 0-0 0, Elijah Johnson 1-2 0-0 2. Three-point shots made: Mason 3, Morningstar, Jackson.
RED (88)
Lagerald Vick 9-17 0-0 23, Landen Lucas 2-6 0-0 4, Devonte Graham 5-14 0-0 12, Evan Maxwell 3-7 0-0 6, Mitch Lightfoot 2-5 0-0 4, Travis Releford 10-16 0-0 24, Kevin Young 4-7 0-0 8, Tyler Self 3-11 0-0 7. Three-point shots made: Vick 5, Releford 4, Graham, Self.
"Udoka is a monster," said KU sophomore guard Lagerald Vick, who followed last week's 29-point camp game outburst with five threes and 23 points for the Red team. "The way he carries himself on the court, off the court. He catches everything, dunks everything. That's a monster to me."
Nigeria native Azubuike, who averaged 16.9 points and 9.7 rebounds his senior season at Potter's House Christian High in Jacksonville, Fla., hit 13 of 15 shots Wednesday. Most came off dunks, making some wonder how the rims were able to withstand such force.
Has Azubuike ever brought down a backboard?
"Oh, yes, yes, several times," Azubuike said.
Of his most spectacular slam, the one in which he showed off nifty ball-handling skills, the McDonald's All-American said: "It's something I've been practicing. I did it in high school sometimes. I'm really trying to show off my point-guard skills a little bit."
He was only kidding — something KU coach Self does not do when discussing the powerful player's potential.
"He is probably as athletic off two feet as any big guy I've ever had," Self said in introducing Azubuike to campers Friday at Self's parent/child camp. "He could go down … Jo Jo (Embiid) was unreal … but Udoka could go down as the best big man Kansas has seen in many, many, many, many years."
Self has said the same thing to Azubuike, who turns 17 on Sept. 17, many times.
"We have coach Bill Self trying to get on me, trying to put it on me," Azubuike said of one of the reasons he looked so much more comfortable in Wednesday's campers game than last week's game — one in which he had eight points.
"As time goes by, I'll be good. Coach keeps telling me all the time I'm probably one of the best young kids he ever recruited. He gets on me to try to work hard to get better so I'll be a monster on the post."
There's that word — monster — again, though Azubuike recalls a different high school nickname.
"In high school, that's what they used to call me: 'Baby Shaq. Big Shaq,'" Azubuike said, drawing comparisons to Shaquille O'Neal. "I mean, it's just a name people call me. I love it. I've seen videos of him and highlights. I see a little bit of me in him."
Like former NBA phenom O'Neal, Azubuike might pick and choose some spots to flex to his fans, as he did to the campers' delight Wednesday.
"I mean, it's something I do all the time, something to make my team (excited)," Azubuike said.
The player who arrived in the U.S. as a freshman in high school still has work to do.
"Getting in shape more, trying to work on my left-handed hook shot," he said of summertime goals. "Just keep improving my post move, be quicker, try to do all things better.
"I want to be successful in everything I do," he added. "I take it as part of me to get better."
He's mature at such a young age, adapting quickly to college.
"My surroundings. My friends are back home," he said. "You have time differences here. In high school, I can do whatever I want to. Now I've got to go to weightlifting, go to class. It's been set times. That's been a difference. I'm getting used to it."
His teammates may never get used to trying to guard him. Sophomore forward Carlton Bragg Jr., who had 22 points as a teammate of Azubuike on Wednesday, said he feels "small" standing next to Udoka.
"Everybody else says that," Azubuike said, smiling. "Sometimes he tries to guard me. He sees I'm too strong for him, so he tries to go to the perimeter. It's been fun so far."
And fun watching him.
"He's a beast, a monster," Vick reiterated. "He's a strong guy and so young. It's a long process, but he's learning fast. I never thought he was going to be that athletic. He showed something today with the little ball-handling cross-over. I was amazed at that."
Scrimmage highlights: Frank Mason III had 29 points and Josh Jackson 19 for the winners. Jackson had two spectacular one-handed dunks and also a block of a shot by Devonté Graham, who had stolen the ball from Jackson and was racing in for a layup. Jackson also blocked one of Graham's deep jump-shot attempts. … Vick drove the baseline, then reversed back into the lane for a slam. … Vick says he has gained 30 pounds since arriving at KU as a freshman. He's 6-5, 180. ... Mason tossed the ball off the backboard to himself for a slam. … Travis Releford, who played in the NBADL and Canada last season, ran into a brick wall in Azubuike, who took the ball away from the small forward. Releford scored 24 points. … Senior Tyler Self, who was a fan-favorite of the campers who chanted his name and "MVP, MVP," had seven points off 3-of-11 shooting.
Rock Chalk game tonight: Brian Hanni's Rock Chalk Roundball Classic, which will include former KU players including Releford, Cole Aldrich, Ben McLemore and others, will tip at 7 tonight at Free State High. Gates open at 5:30 p.m. Autographs are available after the game. Admission is $10. For information go to the game's Facebook page https://www.facebook.com/rockchalkroundballclassic/
Thornton decision ahead: Former Duke point guard Derryck Thornton is expected to choose between KU or USC in the near future, several recruiting analysts have reported.