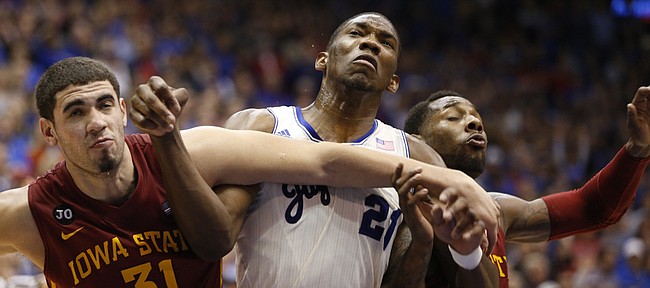 Some images live somewhere in the brain and every so often surface to the conscious level. They never will disappear until that brain shuts down completely.
One of mine: Joel Embiid, 7-foot-2 native of Cameroon, stood up from his seat on the Kansas bench well before the gates opened for that night's game and made not one, not two, three consecutive shots, and sat back down. He didn't make a fuss, which suggested to me that this was not a difficult shot for him.
It's also not a shot that he ever would take in a game because he wasn't even in bounds. Still, it showed what a soft shooting touch he has, just one of many illustrations of how he was born to play basketball, a sport his body hasn't yet let him play professionally.
Embiid, who missed the final month of his lone season at Kansas University because of a stress fracture of the back, has had two surgeries on the navicular bone of his right foot since being taken with the No. 3 overall pick of the 2014 draft. He hopes to make his NBA debut during the 2016-17 season.
Healthline.com defines the navicular as "a boat-shaped bone located in the top inner side of the foot, just above the transverse. It helps connect the talus, or anklebone, to the cuneiform bones of the foot."
Embiid underwent a bone-graft procedure last August.
Yao Ming missed an entire season with a similar injury and was able to play just five games when he returned before deciding to retire.
On the other hand, Zydrunas Ilgauskas was limited by injuring the bone twice in 29 games in what would have been his first four seasons. He made a complete comeback and enjoyed a long career after that shaky start.
And then there was Bill Walton, who played just 14 games in a four-season stretch in the middle of his career. Upon his return, he played with minutes restrictions.
I have but one strong NBA rooting interest and that's for a return to health for Embiid for two reasons: 1. I love watching him play basketball and the NBA could use another great, young center so that Anthony Davis isn't the only one. 2. Embiid could use a break to go his way. He came to the United States because it was the best launching pad to an NBA career. One of the sacrifices he made in doing so was not seeing his younger brother, Arthur, for the last four years of his life. Arthur died in Cameroon, reportedly after a vehicle rolled down a hill and struck him.
If Embiid ever returns to full health, he has all the tools to develop into a perennial All-Star.