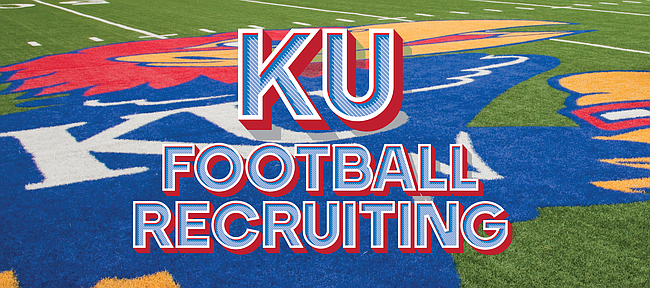 Tyriek Starks, Travis Jordan and now Mike Lee.
If these are a few of the names KU fans talk about that are responsible for the Jayhawks turnaround a few years from now, first-year running backs coach Tony Hull will be the man to thank.
Since joining the KU staff a few months ago, Hull has been on fire on the recruiting trail, landing some talented and overlooked athletes from his native New Orleans in the Class of 2017.
Late Thursday night, Hull landed his biggest prospect to date when four-star cornerback Mike Lee, of Landry-Walker High in New Orleans, orally committed to Kansas.
The 5-foot-10, 162-pound Lee, who also had offers from Arizona State, Cal, Georgia, Miami (Fla.), Missouri, Tennessee, Texas, Texas A&M; and Texas Tech, West Virginia and Wisconsin, visited KU in early April and immediately felt comfortable with the facilities, the coaching staff, the players and the environment.
Above all, though, he felt comfortable with Hull.
"It was very important to know there is someone who comes from New Orleans because it is tough," Lee told Jon Kirby of JayhawkSlant.com. "Some coaches end their careers as high school coaches here in New Orleans, but not coach Hull. He is a great high school coach and will be a great college coach. He is like a father. We stay in communication every day."
In addition to his four-star pedigree, Lee recently earned MVP honors at the Rivals.com camp in New Orleans. Rated as the top athlete in New Orleans, Lee said the KU coaches like him for his physical style and play-making skills.
He becomes the seventh commitment in the Class of 2017 to pledge his services to the Jayhawks and credited the bond he built with Hull, Kenny Perry and second-year head coach David Beaty for his desire to pull the trigger and pick Kansas.
"(Coach Beaty) was real and he told me right away how he felt about me," Lee told Kirby. "When I looked into his eyes I could tell there was a lot of trust. I know if I go to Kansas he will have my back."
Landing four-star prospects is a rare feat at Kansas. The most recent four-star prospect to commit to KU was Class of 2014 Gardner-Edgerton High running back Traevohn Wrench, who never wound up playing a down with the Jayhawks.
KU also landed a pair of transfers who were former four-star prospects in the 2013 class — Chris Martin and Marquel Combs — but neither player stuck with the program either.
Class of 2011 running backs Tony Pierson and Darrian Miller were the last four-star pick-ups to make an impact at KU, but even Miller left the program before his career was finished.
Including Martin and Combs, Kansas has signed just 14 four-star prospects since 2007.
Recent 4-star prospects to sign with Kansas
2014 – RB Traevohn Wrench
2013 – DE Chris Martin, DL Marquel Combs
2011 – RB Darrian Miller, RB Tony Pierson
2010 – RB Brandon Bourbon, DB Keeston Terry
2009 – WR Bradely McDougald, DE Quintin Woods, RB Toben Opurum, DB Prinz Kande
2008 – RB Jocques Crawford, OL Nathan D'Cunha
2007 – DB Ryan Murphy
More like this story on KUsports.com