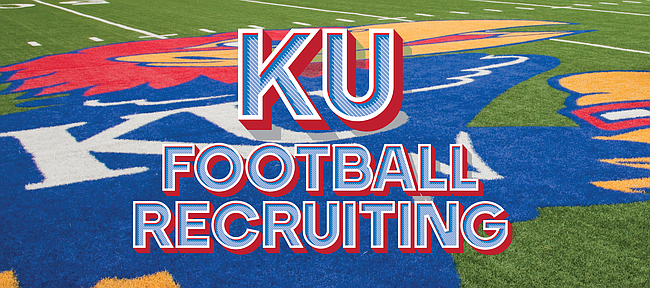 When Arkansas running back Denzell Evans realized earlier this year that he was within striking distance of graduating, the idea of moving on to play his final two seasons of college football elsewhere began to really appeal to him.
The 5-foot-11, 217-pound junior-to-be from Houston has nothing against Arkansas or the coaching staff there, but spent most of the past three seasons in reserve role after signing with the Razorbacks as a three-star prospect out of high school. Buried on the depth chart during the 2015 season, Evans appeared in six games and logged just six carries for 48 yards.
During that time he never whined, never felt like he was getting a raw deal and continued to work to develop his game. The reason? He wanted to be ready when that next opportunity came.
That moment never popped at Arkansas, but it may soon arrive at Kansas.
After reconnecting with KU wide receivers coach Jason Phillips and developing a relationship with KU recruiting coordinator Kenny Perry, Evans visited KU last weekend and saw everything he needed to see to believe Lawrence was the right place for him.
"Facilities, flashiness, all that stuff played a part when I was being recruited in high school," Evans told the Journal-World on Monday night. "But now, as long as they have a weight room and I can put in good work, that's all that matters. I had never been to Kansas before and just seeing their weight room and knowing the improvement that's coming with the locker room, that didn't play a role in my decision but it was still cool to see how nice everything is there."
Although nothing is official yet, Evans said he had no doubts about his future plans.
"It's as done as it's gonna be without me signing," he said of attending KU. "I just want to focus on school, develop my game and be ready to go when I touch down in Lawrence."
Evans is planning to arrive on campus in early August in time for preseason camp. If he can finish a heavy load of classes this summer at Arkansas, Evans will be eligible to play at KU immediately and will have two years of eligibility remaining.
He currently is taking 12 hours during the June summer session and will take six more during the July session. Asked to put odds on the chances of him graduating this summer, Evans did not hesitate to answer.
"There's no question about it," he said. "After the second summer session, I'll be done. No summer for me. It's all work right now. I'll have plenty of free time later in life."
Although Evans did most of the legwork for this transition on his own, he fell into a little help in the form of a former KU assistant coach now on staff at Arkansas.
"Once I really started looking into Kansas, I reached out to coach (Reggie) Mitchell and asked him a few things," Evans said of the longtime KU running backs coach who left for Arkansas in January. "What's the environment like, how's campus life, how's everybody treated, are they invested in football? It was all positive comments that he gave me."
A self-described one-cut runner with great hands, Evans' addition would be significant for a KU team that lacks depth at the running back position.
What, for years, had been one of the deepest positions on the KU depth chart quickly has become one of the thinnest, with only returning starter Ke'aun Kinner having logged any legitimate game action. Sophomores Taylor Martin and Ryan Schadler, both have game experience, but neither received much work at running back last season. Freshman Khalil Herbert, a two-star back from Plantation, Florida, also will give the Jayhawks depth at a spot in which coaches often say a team cannot have too much. But there's a big difference between an incoming freshman like Herbert and a 21-year-old veteran like Evans, who said he planned to wear No. 23 with the Jayhawks.
News of Evans' decision to join the Jayhawks actually broke on Twitter, where his brother and then his girlfriend Tweeted out their excitement. Evans laughed when asked about their support and added that he would not let anything shake his focus.
"I keep myself level-headed because, at the end of the day, I know if I don't finish strong here, there won't be any Kansas," he said. "But I also know that I'm going into a great situation where I'll be able to compete for playing time and possibly even a starting spot and I'm really looking forward to it."
More like this story on KUsports.com