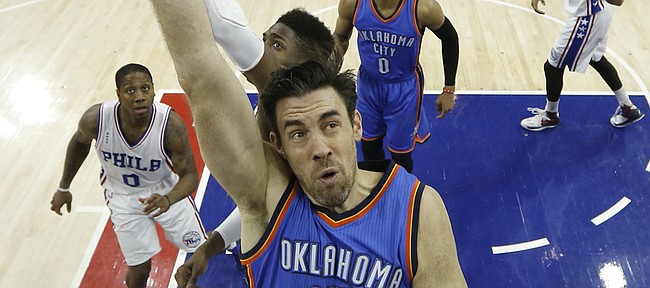 Steady, reliable, non-controversial Nick Collison needed no time this offseason to decide whether he had a 14th NBA season left in his tank.
During his exit interview with the Oklahoma City Thunder media Wednesday, the 6-foot-10 All-American out of Kansas University confirmed he'd fulfill the back end of his two-year contract, which will pay him $3,750,000 in 2016-17.
"I've got another year in my contract. I really enjoyed this year, looking forward to coming back," Collison, the second-leading scorer and third-leading rebounder in KU history, said.
Collison, who turns 36 in October, averaged 2.1 points and 2.9 rebounds a game while logging 11.8 minutes per game in 59 regular-season games (four starts). He was not in the rotation during the playoffs, in which OKC took Golden State to seven games before being eliminated in the Western Conference finals.
"I was prepared for it," Collison said of a reduced role. "Last year my minutes started to go down. I understood that was coming. Being older, I'm not the same player I was, but I think it has more to do with our roster and the way the game has changed and teams playing small. I really had a good time this year, trying to help other guys. The biggest challenge is just being ready to play when you're not playing, having some confidence when you get in there. You haven't taken a shot in a long time, those type of things. That was an adjustment. But I did well with it."
OKC is blessed with some standout bigs, including Steven Adams, Enes Kanter and Serge Ibaka.
"It's been great, and those guys have put in a lot of work and deserve all the credit. But I think for the rest of us who have been here and tried to help, it does, it makes us feel good, too," Collison said. "Steven in particular I think I always — from the day he got here, I knew he had the ability to be a really special player, and I think what we're seeing with him is a confidence that he's getting and being comfortable with the NBA game, recognizing things in the NBA game — recognizing things on the floor before they happen and being able to fully react and use his ability now that he's got some experience. Enes played great. Serge continues to get better.
"It's been fun to see our young guys develop and really step up in the playoffs."
If the OKC roster remains as it is, it might be difficult to see Collison signing another deal with the Thunder. Then again, if he stays healthy he might be able to land another two-year deal with OKC or another team.
"I've thought a lot about it. As you get older, you know that day is coming," he said of retiring. "I'll consider a lot of things. I think I also realize that things change, and I've got another year to play, so I can't make any decisions now. But I'm considering my options, I guess. A lot of it has to do with my personal life. I have a 10-year-old daughter and that will be my priority. It is now, but even more so is getting as much time with her I can after missing some time playing. That will be a big issue for me is — not issue, but that will be a main priority for me is what's best for her, so that'll be a big part of my decision."
OKC phenom Kevin Durant said often he loves playing on the same team as Collison. Durant is a free agent this offseason.
"Kevin is so important to this place, obviously, and to our team, and a close friend of mine. I really enjoy my time with him. So for sure it's a big deal. For us we need him back," Collison said. "We'll try to communicate how important he is to us and how much he means to us. We understand what this is and how it works, and it'll be up to him at the end of the day. But he means everything to us in terms of a friend, a teammate, and what he's done for the organization and for the future what we're trying to do. There's no real selling. I think there's nothing he doesn't know about this place and what we're about, and I think it's just letting him know how important he is to us and being there if he wants to talk, I guess, then realizing that he's going to make his own decision and that's it."
Signing today: Former KU forwards Thomas Robinson, Markieff and Marcus Morris and Mario Little will be at The Oread (1200 Oread Ave.) from 2-5 p.m. today for the launch of F.O.E. Snapbacks & Beanies. The four are the founders of F.O.E. and will be signing autographs and selling those items.
Allen picks Texas: Jarrett Allen has signed scholarship papers with University of Texas, several media outlets reported on Friday. The 6-foot-9, 225-pounder from Austin chose Texas over Houston and KU. The 6-9 Allen is ranked No. 15 in the recruiting Class of 2016 by Rivals.com.
More like this story on KUsports.com