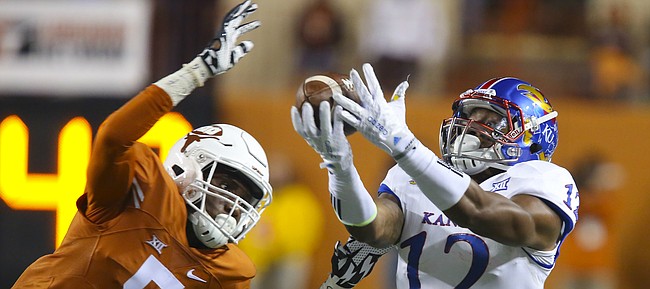 Second-year Kansas University wide receiver Darious Crawley on Thursday announced on Twitter that he was leaving the program.
The former three-star prospect from Cypress Ridge High in Houston appeared in 15 games during his two seasons with the Jayhawks and spent time at both wide receiver and running back.
Crawley's 244 receiving yards during the 2015 season ranked fourth on the team and his 18 catches ranked fifth. He also tied for second on the team with two receiving touchdowns. Crawley played in the first 10 games of the 2015 season and did not play in the final two.
Crawley, who was on KU's two-deep depth chart most of last season, spent the bulk of his KU career battling in a logjam at a deep position, and never was able to consistently separate himself from the rest of the pack. With KU's top returning wideouts all younger than Crawley and second-year head coach David Beaty continuing to add receivers to the roster, playing at a crowded position may have contributed to Crawley's decision to leave the program.
On his way out the door, however, the former Houston standout complimented the KU program and spoke highly of his time in Lawrence with a goodbye note titled "Once a Jayhawk, Always a Jayhawk."
The Tweet has since been removed and Crawley still appears on the KU roster, but he's back home in Houston and will not return. KU likely will update its roster next week after the remaining Class of 2016 freshmen report to campus this weekend.
Crawley's departure serves as another blow to KU's overall roster number, which has slowly improved but still remains below the maximum of 85 scholarship players allowed and behind the rest of the Big 12. But it also comes at the right position, given KU's depth and talent at wideout and the number of already-committed Class of 2017 prospects expected to join the Jayhawks next February.
Here's a list of the returning receivers who will be asked to help account for Crawley's production:
• LaQuvionte Gonzalez, jr.
• Steven Sims, soph.
• Jeremiah Booker, soph.
• Tyler Patrick, soph.
• Bobby Hartzog, jr.
• Emmanuel Moore, soph.
• Shakiem Barbel, sr.
• Austin Moses, sr.
• Chase Harrell, rs-fr.
• Keegan Brewer, fr.
More like this story on KUsports.com