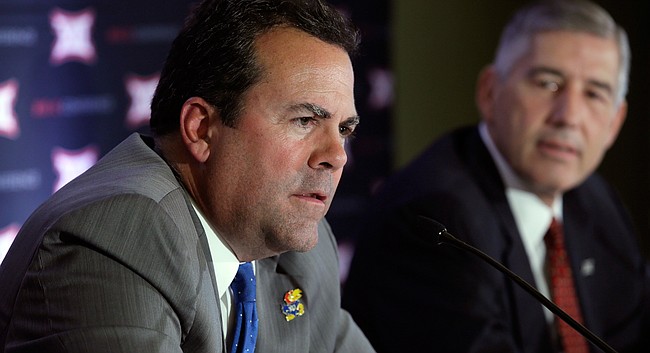 Fresh off of his final meeting as the chair of the Big 12 Conference athletic directors, Kansas University AD Sheahon Zenger returned to Lawrence late Thursday night from the Big 12's spring meetings in Dallas and landed with the same feeling as many of his cohorts.
"In my five and a half years in the league, there's never been greater camaraderie, collegiality and sharing of information and we've never had stronger leadership than we have now," Zenger told the Journal-World.
Proof that such vibes go beyond words and feelings into the realm of actually getting things done came Friday afternoon, when the Big 12 announced that it had voted to bring back a conference championship football game in 2017. Big 12 commissioner Bob Bowlsby said the conference likely would move into two five-team divisions and keep its round-robin schedule but added that final details still needed to be ironed out.
The plan was presented by the conference athletic directors to the Big 12's board of directors on Thursday and, according to Zenger, was received incredibly well.
"The best news out of this week was two-fold," Zenger said. "One, there was great out-of-the-box thinking amongst the ADs regarding the championship game, it was shared with the board, who received the information quickly and then acted on it. The second thing is the Big 12 just distributed a little more than $30 million apiece to its members, which is third among Power 5 conferences."
That total distribution of roughly $304 million, up 20 percent from $253 million in 2015, put talk of the importance of a potential Big 12 network closer to the back burner.
"What gets lost in that is we all still own our own third-tier media rights," Zenger said. "It's monetized in different ways by each institution, but each institution benefits a great deal through exposure of its teams that way, as well."
Although Friday's vote to reinstate the title game certainly qualified as big news, Zenger said the week's worth of meetings were not nearly as intense and enormous as they were made out to be heading into the week.
"The public perception of these meeting is somewhat inaccurate," Zenger said. "These are meetings we have every year at this time to do end-of-year, houskeeping business to set the table for the next academic and athletic year. We go into these very measured and ready to receive information and data that is presented to us on behalf of the conference. And only after thorough review of that information will we move in one direction or another."
Zenger reiterated that, with items such as possible expansion, which remains an ongoing discussion, and the creation of a Big 12 network on the agenda, that last part was more important than ever.
"These are very important decisions," Zenger said. "And none of this can be taken lightly.... "It's critical that we don't approach these issues from an emotional vantage point. This requires great clarity of thought and mindfulness."
Zenger will serve out his rotation as the chair of the conference ADs through the end of the month and then will pass the torch to TCU athletic director Chris Del Conte on July 1. Zenger added that, with so many hot-button issues being discussed, the league's athletic directors agreed to let Bowlsby be the voice that speaks for the Big 12 on any major happenings.
That said, Zenger offered to sum up the week — and the current state of the conference — with one short-but-sweet statement.
"In many ways, things are really pretty good right now," he said.