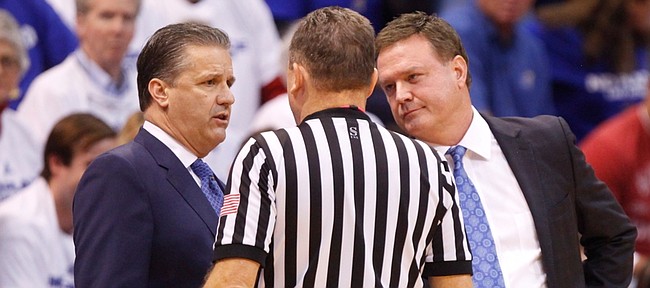 Duke, Kentucky and Indiana, which are ranked Nos. 1, 3 and 11 respectively in ESPN's early 2016-17 preseason college basketball poll, as well as power-conference schools Stanford and Nebraska, tradition-rich UNLV and always-tough Cinderella NCAA Tournament candidate Davidson highlight KU's upcoming nonconference basketball schedule, which was released Tuesday.
In addition, KU will play in the CBE Classic in Kansas City, Mo., in a field that includes UAB, Georgia and George Washington. The pairings have not yet been officially announced for the Nov. 21-22 event, though it is believed KU will play UAB in the opener.
"It will be a tough, tough nonconference slate, just like it always is. I'm sure it will be rated one of the best nonconference schedules in the country, hopefully preparing us for what could again be as good a league as there is in America — the Big 12," KU coach Bill Self said. "We'll get our share of frequent-flyer miles right off the bat playing Indiana in Honolulu and Duke in New York City. We're playing 10 of our 12 nonleague games against teams which went to the postseason last year, including four NCAA teams. It'll be tough, challenging. I think it will make us better as we go through the season."
KU opens the regular season against 2016 NCAA Tournament teams Indiana (Armed Forces Classic, Honolulu) and Duke (Champions Classic, New York) on Nov. 11 and 15 respectively. The other NCAA squads on the noncon slate are Kentucky (Jan. 28, Lexington) and UNC Asheville (Nov. 25, Allen Fieldhouse).
George Washington is reigning NIT champion, while UAB and Georgia also competed in the NIT, along with Davidson (Jayhawk Shootout, Dec. 17, Sprint Center) and Long Beach State (Nov. 29, Allen).
KU also will meet Stanford on Dec. 3 in Allen. Stanford will be led by first-year coach Jerod Haase, a fan favorite during his playing days at KU. The Jayhawks will return the game to California in 2017-18. The venue for the return game has not yet been announced.
The Jayhawks also will play at home vs. Siena (Nov. 18), UMKC (Dec. 6) and Nebraska (Dec. 10) and at UNLV in the pre-Christmas break game on Dec. 22. KU will return the NU game on Dec. 16, 2017. The Nebraska game marks the return of former KU shooting guard Andrew White III, who transferred to the Big 10 school after his sophomore season at KU.
The Jayhawks will also play Washburn (Nov. 1) and Emporia State (Nov. 7) in exhibitions. The Big 12 portion of the schedule will be released in August.
Here are some tidbits regarding KU's nonconference schedule.
Indiana: Thomas Bryant, a potential first-round NBA Draft pick, has decided to return to IU. Also back are Robert Johnson and James Blackmon. Tom Crean's Hoosiers went 29-8 a year ago.
Duke: With Harry Giles, Jayson Tatum, Frank Jackson and Marques Bolden heading a stellar recruiting class and Grayson Allen back, the Blue Devils will be everybody's preseason No. 1 team.
Siena: Fourth-year coach Jimmy Patsos' Saints went 21-13 and lost in the first round of the CBI.
UAB, Georgia, George Washington, CBE: Rob Ehsan was promoted to head coach off Haase's UAB staff. The 26-7 Blazers, who were disappointed after not receiving an NCAA bid, lost to BYU in the first round of the NIT. Haase was credited for rebuilding the UAB program, once led by Gene Bartow. … Mark Fox's Georgia team went 20-14 and placed sixth in the SEC at 10-8 a year ago, going 1-1 in the NIT. … Mike Lonergan's George Washington team beat Valparaiso in the NIT Finals and finished 28-10.
UNC Asheville: The Bulldogs went 22-12 and placed third in the Big South under fourth-year coach Nick McDevitt.
Long Beach State: Tenth year coach Dan Monson's 49ers went 20-15, including a 12-4 mark in the Big West.
Stanford: The Cardinal is rebuilding after going 15-15 and placing ninth in the Pac-12 at 8-10. KU is 4-0 vs. Stanford in Lawrence.
UMKC: KU last played the Roos in the 2010-11 season. UMKC is led by fourth-year coach Kareem Richardson, who is coming off a 12-19 season.
Nebraska: The teams meet for the first time since NU left the Big 12 following the 2010-11 season. The Huskers went 16-18 a year ago under fifth-year coach Tim Miles.
Davidson: Bob McKillop begins his 27th year at Davidson. The Wildcats went 20-13 last year and finished sixth in the Atlantic Ten. Davidson beat KU in the Shootout in 2011.
"We play Davidson in Kansas City, at the site of the venue in which they knocked us off a few years back, so we'll definitely want revenge on that one," Self said.
UNLV: First-year coach Marvin Menzies inherits a team that went 18-15 and tied for sixth in the Mountain West. KU is 5-0 vs. UNLV, with this the first meeting in Vegas.
Kentucky: It's a rematch of KU's overtime win over Kentucky in Allen. The Wildcats had a 27-9 record and tied Texas A&M; for the SEC title at 13-5. KU is 4-3 vs. Kentucky in the Self era.
This, that: For the last seven seasons, KU has ranked no lower than fifth nationally in the final Ratings Percentage Index (RPI). Three of those times — 2010, 2011 and 2016 — the Jayhawks were ranked No. 1. KU's strength of schedule has ranked in the top 10 in eight of Self's 13 seasons, including fifth in 2015-16. In that span, KU has had the nation's toughest schedule three times: 2004-05, 2013-14 and 2014-15.  … KU is making its first trip to Las Vegas since 2010 when it won the Las Vegas Invitational. … Season-ticket sales for KU's 18 home games are on sale at KUAthletics.com. To order, fans must be active members of the Williams Fund, which can be done by making a minimum gift pledge of $100. For current men's basketball season-ticket holders, applications were mailed in late May. Men's basketball season tickets are limited and allocated according to Williams Education Fund policy and subject to availability. For information, contact the Williams Education Fund at WilliamsFund.com or 785-864-3946.