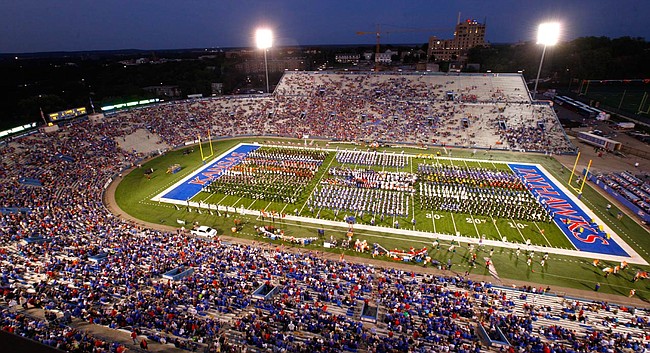 The Kansas University athletic department on Wednesday released the following game times for three KU football games this season.
Sept. 3 vs. Rhode Island, 6 p.m.
Sept. 10 vs. Ohio, 1:30 p.m.
Sept. 29 at Texas Tech, 7:30 p.m.
All three games will be televised, with the opener being shown on the Jayhawk Network, the Ohio game on FSN and the Thursday night Texas Tech Big 12 opener on FOX Sports 1.
A time and TV appointment for KU's final non-conference game of 2016 — Sept. 17 at Memphis — is not yet available and the rest of the Big 12 slate will be determined on a week to week basis when the season gets rolling.
KU will take its first of two bye weeks on Sept. 24.
Here's a look at the rest of the Jayhawks' 2016 schedule:
Date Opponent Time TV
Sept. 3 - RHODE ISLAND 6 p.m. JTV
Sept. 10 - OHIO 1:30 p.m. FSN (Family Weekend/Band Day)
Sept. 17 - at Memphis TBA TBA
Sept. 29 - at Texas Tech* 7:30 p.m. FS1
Oct. 8 - TCU TBA TBA
Oct. 15 - at Baylor TBA TBA
Oct. 22 - OKLAHOMA STATE TBA TBA (Homecoming/K Club Weekend)
Oct. 29 - at Oklahoma TBA TBA
Nov. 5 - at West Virginia TBA TBA
Nov. 12 - IOWA STATE TBA TBA
Nov. 19 - TEXAS TBA TBA
Nov. 26 - at Kansas State TBA TBA