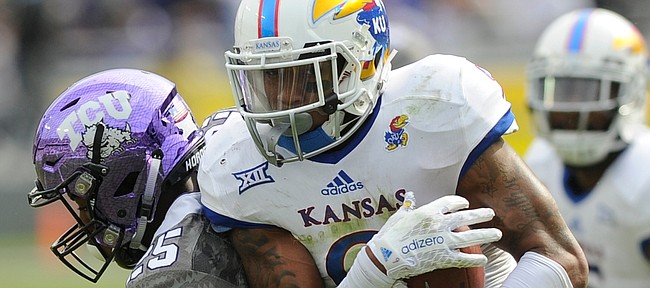 Senior safety Fish Smithson, set to enter his third season as a key contributor for the Kansas defense, will be the first to tell you that covering world-class athletes in the Big 12 Conference can be a nightmare.
"It's tough," Smithson said earlier this month at Big 12 media days in Dallas. "Mainly because now you see how much teams pass. They pass a lot more and they try to find ways to out-smart you and to beat you. If it's not schemes, it's the players, whether it's widening them out some or bringing them in close, they're trying to find mismatches and, in this conference, they will exploit you."
A season ago, the Jayhawks found themselves on the bottom of the Big 12 in pass defense, giving up 293.2 passing yards per game to opponents, nearly 100 more yards per Saturday than Oklahoma, which led the conference in the same category.
A big part of the reason for that was KU's inexperience in the secondary. Of the five defensive backs who started on Day 1 for KU in 2015, just two of them (nickel back Tevin Shaw and safety Greg Allen) had starting experience, and those two had combined for just 11 career starts in two previous seasons.
That inexperience, combined with a lack of viable depth, led to the KU defense finding itself out of position a lot, creating the perfect storm for Smithson, who started all 11 games he played in last season, to lead the Jayhawks, the Big 12 and the nation in solo tackles per game.
As good as that was for Smithson's reputation as both a solid player and a sure tackler, it did not go quite as far in helping Kansas.
"We don't want Fish leading our team in tackles," second-year KU coach David Beaty joked. "He plays safety. We need (junior linebacker) Joe (Dineen) leading the team in tackles. Joe was third. We need him being first and we need Fish being fifth."
While it's tough to predict or expect a major jump by the Jayhawks' defense this fall, it's not hard to visualize a scenario in which Smithson plays more of a pass defender and less of a savior. All five opening-week starters in KU's secondary from 2015 are back in 2016 — along with three others who started at least two games a year ago — giving KU a significant boost in terms of experience in its last line of defense.
With that comes a confidence the 2015 defense did not possess and the belief that, even though conference foes are returning eight of the nine starting quarterbacks from last season, this KU defense is much better prepared to help keep the Jayhawks in games.
"That's hard," Smithson said of the experienced QBs he and his teammates will face. "That's definitely hard. I wish it was the opposite way. I wish it was one out of 10. But it's not. But we're not afraid of anything, we're real competitive and we're really looking forward to the challenge."
Beaty believes the starting point for an improved secondary starts much closer to the line of scrimmage.
"We need our linebackers making tackles," he began. "And that tells you we need to be better up front so our backers can get off (blocks) and make tackles and make plays."
That, Beaty believes, will free up Fish and his fellow DBs to do what those who play their positions do on most other teams across the country.
"We need Fish to lead us in interceptions is what we need," Beaty said. "That's just the type of guy he is. Whatever bell he has to answer, he answers it."
More like this story on KUsports.com