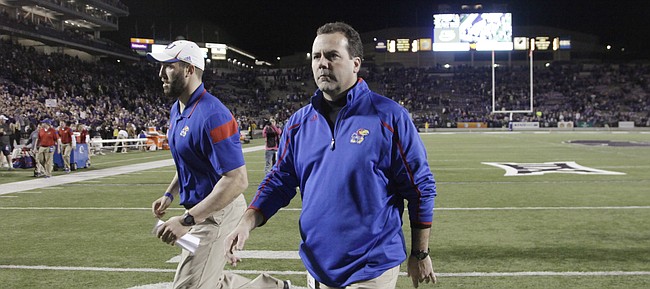 Kansas athletic director Sheahon Zenger's hiring of former KU baseball standout Matt Baty to lead the Williams Education Fund's efforts into the future indirectly represents one of the strongest public commitments to upgrading Memorial Stadium.
Here's how.
In addition to bringing Baty back to KU, Zenger on Thursday announced a national search for a football-specific fundraiser.
"The main thing we're looking for with this is somebody who wakes up at 6 in the morning thinking about football fund-raising and goes to bed at midnight thinking about it just like I do," Zenger told the Journal-World.
The main difference between Zenger and this yet-to-be-hired fundraiser is that the new face, when on board, will be free day in and day out to focus on finding money for future projects at Memorial Stadium while Zenger goes about running the daily business of the athletic department.
The two will work closely together, and Zenger said the remaining Williams Fund executives, including Baty, whom he called "a grinder," also will be pulled into the process on an as-needed basis.
"We have some of the best fundraisers in the business," Zenger said of the crew that raises roughly $20 million annually. "But they need to be able to keep up with managing the accounts in the Williams Fund and addressing the needs of our thousands of donors."
As for the make-up of the person who will fill this new position, Zenger said there were only a few specific items on his list of criteria.
"Preferably, this will be someone who has done this somewhere before or been a part of something like this before with multiple years of experience at the BCS level," Zenger said.
Although a handful of Zenger hires have had ties either to Illinois State or KU, it does not appear that familiarity with the KU landscape or Zenger will be a key part of the search, which currently has no timeline.
What is important, however, is that the person understands what is needed, what is desired and the challenges they will face.
The needs and desires are easier to overcome, and, in many ways, already have been addressed. The challenges are more difficult, and chief among them is the current status of the football program, which is rebuilding from one of the worst six-year stretches in school history.
That said, Zenger believes this hire could, in some small way, represent the first step of momentum that he has been waiting for from the football program. The next step, of course, would be winning, but the creation of this position, which Zenger said will be the first of its kind at KU, will allow KU to be even more patient while second-year coach David Beaty and his staff continue to raise the standards of the football program on and off the field.
"This is still a five-year process," Zenger said of future Memorial Stadium renovations. "But this is a direct reflection of the fact that this is the major project for our athletic department for the next five years. And in cases like this it's not uncommon for an endowment association, university foundation or athletic department to hire someone to lead a strategic effort for a project of this magnitude."
As for Baty, whose official title will be Associate Athletics Director, Williams Education Fund, Marketing & Sales, he comes to KU from his role as General Manager of the Wichita Sports Forum, an approximately 148,000-square-foot multi-purpose facility with a staff of 85.
Prior to that, the 2006 KU graduate served as a vice-president, treasury management, at Equity Bank in Wichita and worked in development at Wichita State University after starting his career in marketing at KU.
He replaces former KU linebacker Banks Floodman, who left in June after three years of leading the Williams Fund.
"I am deeply honored to come back to where my love for college athletics began as a student-athlete," Baty said in a news release. "It was a privilege to wear Kansas across my chest as a student-athlete and I will carry on that very same pride in my new role."