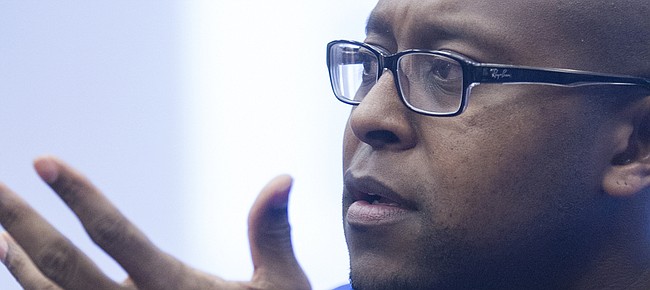 The next college football head coach or assistant who says the staff has downgraded recruiting will be the first and won't be in office for long.
Most of the time, the coaches are sincere in hyping their recruiting classes because if they didn't like the players, they wouldn't have offered them scholarships.
So it's nice to have solid evidence to back up claims that the athletes coming in are better than the ones leaving when they were fresh out of high school.
Kansas football strength and conditioning coach Je'Ney Jackson had some of it in his hands and shared highlights from the color-coded paper.
"We're head and shoulders faster and more athletic than we were a year ago," Jackson said. "I don't know how many wins that equates to, but we're better. That's those guys upstairs. They're recruiting their butts off. They're bringing some really good kids."
The "guys upstairs" from the weight room are the assistant coaches.
Jackson started by sharing 40-yard dash times run Wednesday by members of the freshman class and then shared some returning players' times. Multiple coaches hand-timed the players.
Kyle Mayberry, a 5-foot-10, 175-pound cornerback from Tulsa, Okla., ran a wicked fast 4.36, a time that could lead to him earning serious playing time as a true freshman, even though he is undersized.
Running back Khalil Herbert (5-9, 195, Coral Springs, Fla.) impressed with a 4.47.
Shola Ayinde, a 6-foot, 175-pound corner from Richmond, Texas, ran a 4.50.
Dual-threat quarterback Tyriek Starks (6-1, 180) from New Orleans tore through his 40 yards in 4.53 seconds. Evan Fairs (6-3, 185), a wide receiver out of Fulshear, Texas, matched Starks' time.
Cornerback Ian Peterson (5-11, 180) of Round Rock, Texas, sprinted a 4.54.
Defensive end Isiah (String) Bean of Humble, Texas, stands 6-4 and weighs just 210 pounds. He'll add weight during his career and it will be interesting to see how he can move with added weight because he's moving more like a wide receiver at the moment. Bean was clocked in 4.58, a remarkable time for a defensive lineman and the same time as receivers Keegan Brewer, a freshman, and Jeremiah Booker, a sophomore.
Sophomore D-end Dorance Armstrong has bulked up to 241 pounds. Nevertheless, he ran a 4.66.
"Dorance and Josh Ehambe were in here in a full lather doing position drills before we ran the 40's," Jackson said. "There's a little bit of overtraining going on."
So Armstrong could have gone even lower, if he had saved his energy.
Running backs in their second year in the program ran the two fastest times Wednesday. Sophomore Taylor Martin ran a 4.31, senior Ke'aun Kinner a 4.35. Senior corner Brandon Stewart checked in at 4.37, his former high school teammate, Texas A&M; transfer wide receiver LaQuvionte Gonzalez at 4.38.
The 14 players whose times were listed here so far have one thing in common: When they came to KU, David Beaty was the coach. He said he intended to bring in more speed and has lived up to his promise.
The fastest time logged Wednesday by a player Beaty inherited was produced by a player whose name might shock some, given that he's not a running back, receiver or defensive back.
"Another coach and I clocked Joe (Dineen)," Jackson said. "I looked at mine and said, 'There's no way. What did you get. We had him at the exact same time. I hesitate to even say what it is."
Come on, the suspense is killing me.
"We had Joe at 4.40," Jackson said of the junior linebacker out of Free State High.
Super, Joe.
Running back Ryan Schadler might have approached Dineen's time had he been allowed to run, but as a precaution, he was held back so as not to risk re-injury.
Other times of interest: Junior receiver Bobby Hartzog 4.42, junior cornerback Derrick Neal 4.45, senior safety Greg Allen 4.47.
Still shy on depth, size and experience, Kansas is closing the gap at most positions in the speed department.