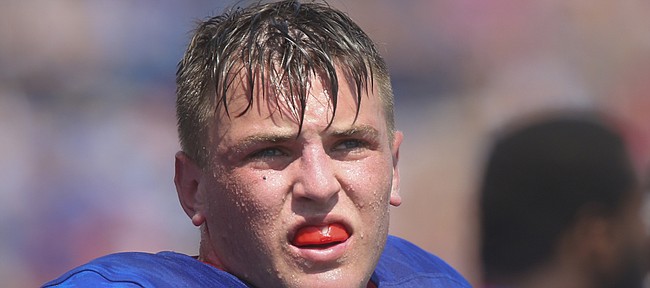 Wednesday, the Big 12 Conference released this year's preseason all-conference football selections as voted by the media.
As you might have guessed, no Kansas University players were mentioned.
Because it's just the preseason, the list was limited to a first-team offense, a first-team defense, place kicker, punter and return man.
Just one member of this year's squad — Oklahoma running back Semaje Perine — also was voted to last year's All-Big 12 preseason list. And only 15 of the 31 total selections (ties added extra spots) earned spots on last year's postseason first or second teams.
Those facts prove that a lot of good players left the conference after the 2015 season, and their departure created the potential for a Jayhawk to crack the list.
But it did not happen. It should not have happened. And nobody, anywhere, was even a little surprised.
Imagine for a second, though, if the Big 12 operated like Major League Baseball's All-Star Game. I'm not talking about the glitz and glamour and celebration. I'm talking about MLB's decades-old tradition of including every team in its mid-summer classic, regardless of how lousy or devoid of talent a team is.
Until the recent resurgence of the Royals, the only All-Star-related noise out of Kansas City came in the form of debates in the weeks leading up to the game about which average player deserved to be included. Today, things are different. Eric Hosmer is the All-Star Game MVP, and Kansas City's boys of summer have been all over recent All-Star rosters.
So what if the Big 12 made a rule that every program had to be represented on the All-Big 12 teams? Which 2016 player would represent KU, and why?
Here's a quick guess, ranked from most likely to least.
Joe Dineen, Jr., linebacker — Dineen already has cemented himself as one of the best tacklers in the Big 12, and he had a breakout season in 2015, finishing 10th in the conference with 86 tackles. Six of the nine players ahead of Dineen in the top 10 also play linebacker, but only one (OU's Jordan Evans) claimed one of the three linebacker spots on this year's preseason squad. That leaves two spots for Dineen, who should have an even better year this year than he did last year, to slide into.

Fish Smithson, Sr., safety — Last year's Big 12 leader in tackles per game (10.1) and the nation's leader in solo tackles per game (7.9), Smithson also would be an obvious guess. Here's the problem: While Smithson no doubt has improved his own game, so has the defense around him. The former juco transfer made a lot of tackles a season ago simply because no one else in front of him did. With the KU defensive-line and linebacking corps seemingly improved, those opportunities might not be quite as available for Smithson this season. It's possible he could be a better player in 2016 but have worse stats.

LaQuvionte Gonzalez, Jr., wide receiver — The receiver slot on these teams is a tough one to crack. Year after year, the Big 12 has employed some of the best offenses and pass-catchers in the country. Given KU's recent struggles at O-line, QB and even wide receiver, finding a wideout that even deserved to be in the conversation for a first-team nod has been tough. But if what we've heard about Gonzalez is true, and they really do find a way to get him the ball all over the field and in a variety of ways, he might have a shot.

Ben Johnson, Jr., tight end — Johnson's a solid player and well could be on his way to making a name for himself both within the KU offense and in the Big 12. But, at least for now, he only deserves to be mentioned on this list because of the Big 12's limited tight-end presence. Oklahoma sophomore Mark Andrews, now in his third season with the Sooners, got the nod as this year's preseason pick, and he's coming off of a 19-catch, 318-yard season. It's easy to see a scenario in which Johnson matches or surpasses those numbers, but it's harder to envision him topping Andrews' 2015 total of seven touchdowns.
All-Big 12 Preseason Team
Offense
QB Baker Mayfield, Oklahoma 6-1, 212, Jr.
RB Mike Warren, Iowa State 6-0, 205, Soph.
RB Samaje Perine, Oklahoma 5-11, 237, Jr.
FB Winston Dimel, Kansas State 6-1, 235, Soph.
WR KD Cannon, Baylor 6-0, 180, Jr.
WR Allen Lazard, Iowa State 6-5, 223, Jr.
WR James Washington, Oklahoma State 6-0, 205, Jr.
TE Mark Andrews, Oklahoma, 6-5, 244, Soph.
OL Kyle Fuller, Baylor 6-5, 310, Sr.
OL Orlando Brown, Oklahoma 6-8, 357, Soph.
OL Patrick Vahe, Texas 6-3, 326, Soph.
OL Connor Williams, Texas 6-6, 288, Soph.
OL Tyler Orlosky, West Virginia 6-4, 295, Sr.
PK Clayton Hatfield, Texas Tech 5-10, 170, Soph.
KR KaVontae Turpin, TCU 5-9, 153, Soph.
Defense
DL Will Geary, Kansas State 6-0, 297, Jr.
DL Jordan Willis, Kansas State 6-5, 250, Sr.
DL Charles Walker, Oklahoma 6-2, 299, Jr.
DL Vincent Taylor, Oklahoma State 6-3, 310, Jr.
DL Josh Carraway, TCU 6-4, 250, Sr.
DL James McFarland, TCU 6-3, 250, Sr.
DL Noble Nwachukwu, West Virginia 6-2, 275, Sr.
LB Elijah Lee, Kansas State 6-3, 218, Jr.
LB Jordan Evans, Oklahoma 6-2, 233, Sr.
LB Malik Jefferson, Texas 6-3, 238, Soph.
DB Dante Barnett, Kansas State 6-1, 193, Sr.
DB Steven Parker, Oklahoma 6-1, 208, Jr.
DB Jordan Thomas, Oklahoma 6-0, 187, Jr.
DB Jordan Sterns, Oklahoma State 6-0, 200, Sr.
DB Davante Davis, Texas 6-2, 199, Soph.
P Austin Seibert, Oklahoma 5-10, 214, Soph.