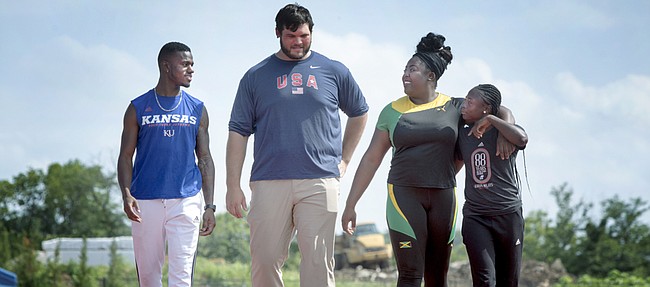 He still is the man you want to hide behind when fearing that a nearby compulsive talker will spot you and make your ears die either from bleeding out or sheer boredom.
Yet, even at a wide, muscular, massive 6-foot-8, former Kansas University weight thrower Mason Finley has a distinctly different look these days. He looks so much thinner, which makes sense because he has lost more than 80 pounds over the past three years.
"I tipped the scales at 437 one time," Finley told a gathering of reporters Wednesday at Rock Chalk Park. "I'm at 350. It's a pretty good weight for me. Next year I'd like to try 330 just to see how that would be. At 430, almost 440, I couldn't spin very well. I wasn't very flexible."
His improved discus-throwing ability earned him an all-expenses-paid trip to Rio de Janeiro, site of the Games of the XXXI Olympiad, aka Rio 2016.
Finley entered last week's USA Olympic trials in Eugene, Ore., ranked No. 5 in the nation and had a personal record, with a toss of 218 feet, 11 inches (66.72 meters), the fourth-best mark in the history of the trials and the best of the meet.
"I definitely think I did," Finley said when asked if he surprised himself. "I knew I was going to throw pretty OK because practices were going great. Meets were going great. I did not expect to P.R."
Being ranked 13th in the world does not kill Finley's dreams of winning a gold medal.
"If you look at the competition going into the Olympic trials, I was fifth," he said.
And look what happened. He was first on both days of the trials.
Finely transferred to Wyoming for his final two seasons of indoor eligibility and final outdoor season because of "family issues," he said. His heart, however, remains in Lawrence.
He trains with his KU coach, Andy Kokhanovsky, who competed in the 1996 Olympics for Ukraine.
"Definitely have a shot," Finley said. "It's basically a mental game now. I've never been in an arena this big. Luckily, I have a coach who has. I definitely have that going for me, and I'm excited to see what I can do."
Five Jayhawks, current and former, qualified for the Olympics. Triple-jumper Andrea Geubelle is training in her hometown of Tacoma, Wash. Finley and the three others conducted interviews Wednesday at Rock Chalk Park.
Daina Levy: making Jamaican history
Sprinters, not throwers, have made Jamaica famous in the track world. But Levy sees that changing now that she has become the first Jamaican to qualify for the Olympics in the hammer throw.
"Having exposure for the hammer is going to make a huge difference with people actually learning what it is and getting more opportunities to train in the hammer," Levy said.
She did not make it to the NCAA championships this past spring because she fouled out at the regional meet.
"It was a humbling moment, but it kind of lit a fire," Levy said. "It made a huge difference, and I think it's what got me over the edge and got me where I am."
She relived the moment that made her an Olympian.
"When I saw it sailing, I was just screaming," Levy said. "Then when I heard the mark, I was running, screaming, hitting stuff. I was all over the place. I just lost my mind. It was the most joy I've experienced in my entire life."
As she spoke, her words painted a picture of her running as fast as she can, which isn't all that fast by Jamaican standards.
"People don't realize, even Jamaicans don't realize, that there are more than just sprinters in Jamaica," she said.
Zainab Sanni: 'I am Zainab'
She moved with her family from Nigeria to Colorado at the age of 9 because her parents wanted their children educated in America.
Her first trip back to her native country came last week in the Olympic trials.
"Overall, it was a great experience, going back home for the first time in 12 years," she said. "I was happy to be back."
Sanni saw relatives, some for the first time.
"When I landed, I was able to see my uncle, and before coming back here I visited my aunt, my dad's younger sister, and my cousins," she said. "I spent a day with them, and that was really nice. I had met my dad's sister, but not my cousins."
Plus, she finished sixth in the 100-meter finals, securing a spot on the 4x100 relay team.
Note, however, she said that "overall" the experience was a good one, which meant that not every aspect of it was.
"The 100 meters, it was kind of rocky because they said I didn't make it to the final," Sanni said. "I had to talk to the officials, and it turned out I did make it, and I got first in the heat. That was like 20 minutes to the final, and I had to warm up again, but I got sixth, and I'm still happy with that because I got sixth, and they take the top six."
She elaborated, to the best of her ability, on the clerical mistake that nearly cost her a trip to the Olympics.
"I don't know why they got it messed up," she said. "They gave my place to some other girl. I heard the list who was running in the finals, and my name wasn't on it. They said I ran some ridiculous (slow) time, and I said, 'That's not right.' I had to run across the field and talk to the coaches for Nigeria. We talked to the video people, and they realized it was me. Then they weren't sure if I was Zainab or not. It was kind of weird. They were like, 'You're not Zainab.' I said, 'I am Zainab.' It was weird."
It pays to speak up when on the wrong end of an injustice.
"If I hadn't spoken up, I definitely wouldn't be part of the 4x100 because I wouldn't have run the finals, and I wouldn't have placed top-six," Sanni said. "So my place would have been given to somebody else."
Kyle Clemons: 'I'm an Olympian'
A two-time Big 12 champion in the 400 meters in 2013 for Kansas, Clemons finished sixth at the Olympic trials to earn a spot on the 4x400 relay team.
"The most exciting thing I keep thinking about is the opening ceremonies," Clemons said. "Seeing it on TV, seeing everyone dressed up in their polo outfits and stuff like that, USA, and each country. The race itself is also going to be cool, but I feel like at this point it's almost just the fun part. It's going to be a lot of nerves, of course, but we worked so hard to get to this point so the hard part is over with."
He summed up the aspects of the Rio trip he most looks forward to experiencing.
"The opening ceremonies, the race, and just making new memories, being in a new place," Clemons said. "Being able to say I'm an Olympian, that's going to be the cool part."
More like this story on KUsports.com