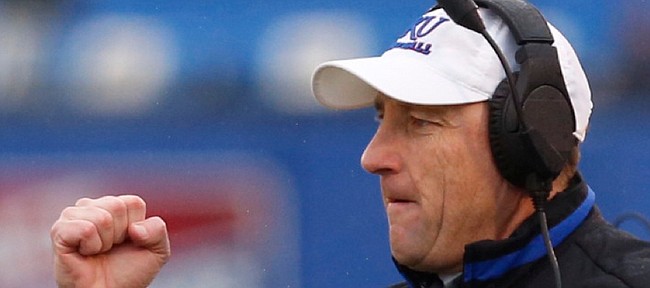 When the results of the 2016 preseason Big 12 football media poll were released on Thursday, it came as no surprise that Oklahoma was the overwhelming favorite to win the conference, securing 258 points and 24 of 26 first-place votes.
What did come as a surprise, however, popped up at the opposite end of the poll, where the Kansas Jayhawks were voted last but not in unanimous fashion.
KU finished a distant 10th in the voting, earning 27 points compared to 59 for ninth-place Iowa State. But simple math indicates that exactly one member of the Big 12 media contingent that voted in the poll picked the Jayhawks to finish ninth instead of 10th during David Beaty's second season as KU's head coach.
That's 25 points for last-place nods from 25 of the 26 voters and two more for a ninth-place vote of confidence from voter No. 26.
This year marked the sixth consecutive season that Kansas football was picked last in the Big 12 preseason poll.
Since the inception of the conference in 1996, which began as a 12-team league with a north and south division, the Jayhawks now have been picked to finish at the bottom of the conference or their division 10 times.
Iowa State, which will be under the guidance of first-year coach Matt Campbell, hired this offseason to replace the fired Paul Rhoads, has been picked last eight times.
This year, however, the Cyclones finished one spot in front of KU after landing two players on the preseason all-Big 12 offense, running back Mike Warren and wide receiver Allen Lazard.
Kansas State, which was picked to finish eighth by the media, landed five players on the preseason all-Big 12 team, including four on defense.
KU did not have any players named on the preseason all-Big 12 first team.
While Oklahoma enters the season as the heavy favorite to win its record 10th Big 12 title this season, the rest of the conference standings seemed harder to predict. Second-place TCU, which earned 222 points and the other two first-place votes, and seventh-place West Virginia (126) were separated by less than 100 points, with Oklahoma State (202), Baylor (156), Texas (151) and Texas Tech (141) rounding out third through sixth.
2016 Big 12 Football Media Preseason Poll
*First-place votes in parentheses
Oklahoma (24) – 259

TCU (2) – 222

Oklahoma State – 202

Baylor – 156

Texas – 151

Texas Tech – 141

West Virginia – 126

Kansas State – 88

Iowa State – 59

Kansas – 27