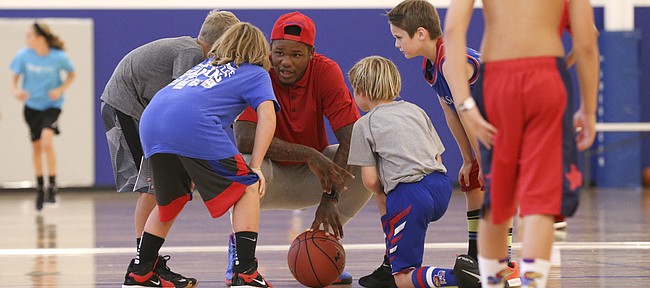 Sacramento Kings guard Ben McLemore, who has been working diligently on his game this summer as he prepares to complete the final year of his first NBA contract (four years, $13,087,722), has developed a reputation as a guy who spreads his wealth around.
Photo Gallery
Ben McLemore at Kansas All-Star Basketball Camp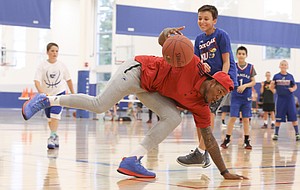 View a gallery of images from Ben McLemore and Andrew Wiggins Kansas All-Star Basketball Camp on Wednesday at Sport Pavilion Lawrence.
The former Kansas University standout, who is in Lawrence hosting a youth basketball camp with Andrew Wiggins at Sports Pavilion Lawrence, has received the NBA Cares Community Assist award in recognition of his charitable efforts in Sacramento and his hometown of Wellston, Mo.
He has …
• established an "All 4 Kids" nonprofit in Wellston that provides meals to children in need;
• taken Sacramento children on a shopping spree at Christmastime;
• hosted a Christmas party for St. Louis Hope House and personally handed out turkeys and hot meals in Wellston;
• donated tickets in Sacramento to families who are affiliated with Saint John's Program for Real Change.
"Everything for the kids; always for the kids," McLemore said Wednesday during a break at his camp. "I always want to come back, give back to the kids, help them with fundamentals. This is where it all started, where I started building my name. Kansas and coach (Bill) Self and his staff did a great job helping me with my confidence, getting me prepared for the next level.
"I will always come back," added the 23-year-old McLemore, who has received one huge honor so far recognizing his giving nature: His hometown renamed Wellston Ave., Ben McLemore III Place.
"I'm the first. Pat McCaw (Golden State) is from the same area. He's the second. We are the first two giving back that's come out of the community (of Wellston)," McLemore said. "Helping around St. Louis, it's a blessing. We're going to continue to do this."
McLemore likely will need to improve on his 7.8 points-a-game average of a year ago to net another huge NBA contract and continue his financial influence on youths.
"My confidence this summer has been tremendous, been at a higher level as it's always been," he said. "I'm working on my all-around game, just getting myself prepared not just for the season but my career, to better myself. I've been working my butt off preparing myself for the season."
He plans to stop by Allen Fieldhouse and play in some pick-up games with current members of KU's team, including freshman Josh Jackson, who some say will be the top pick in the 2017 NBA Draft.
"From what I've heard from all the coaches and media and recruits, he's a great, talented guy," McLemore said. "Athletic, skilled. Coach Self told me he's nice. I can't wait to meet him."
Jackson is the latest in a long line of talented wings in the Self era. Malik Newman also is on board for the following season.
"A lot of guys have come here: me, Wiggins, Mario (Chalmers), Brandon Rush, (Keith) Langford," McLemore said. "They came in and did what they were supposed to do. Xavier (Henry) as a freshman … everybody was, like, that's a big freshman coming in. He dominated. Bill Self likes those type of guys. He wants to continue to build that especially in his program."
He wishes he could have teamed with Wiggins for a year.
"It would've been crazy playing with Wiggins and Joel (Embiid)," McLemore said. "Things happen for a reason. We're both in a situation we can give back to the kids and be one of the top players in the league and work on our games and get better and play the game we love, and that's basketball."
While on campus, McLemore figures to get an update on his academic progress. He has been taking classes each offseason since leaving KU's program after his red-shirt freshman year in 2012-13.
"I'm taking an online class," McLemore said. "It's hard to come back and do the classes. I'm so busy in the all-around world, traveling and stuff. I'm focusing on getting my degree. My mom always said she wanted me to get my degree. It's something I tell myself I'll continue to do. I've been taking one class at a time. It's going to be a long time, but it's class. I've got to continue to build, look forward to making everybody happy (in walking down the hill someday)."
CBE update: KU will meet UAB approximately 8:30 p.m., Nov. 21, in the second game of a CBE Hall of Fame Classic doubleheader, it was announced Wednesday. George Washington will meet Georgia at 6 p.m.. The KU game will be on ESPN2. On Nov. 22, the title game is set for 9 p.m., on ESPN2 with a consolation game at 6:30.
Summer league: Former KU forward Cheick Diallo scored 14 points off 6-of-10 shooting and grabbed 12 rebounds in New Orelans' 81-77 loss to Miami in NBA summer-league action Wednesday in Las Vegas. He hit two of four free throws and played 34 minutes. … Cliff Alexander had seven points and four boards while playing 10 minutes in Portland's 86-71 loss to Utah. … Perry Ellis had 11 points and four rebounds in 16 minutes in Dallas' 81-64 win over Milwaukee. He hit four of nine shots, including the only three he attempted. He was 2-for-2 from the line.
More like this story on KUsports.com