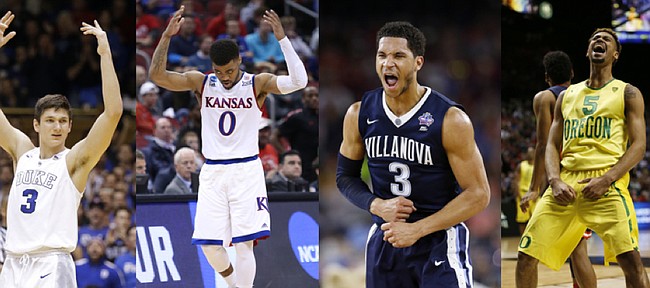 The 2016-17 season doesn't tip off for another four months, but college basketball prognostication is a year-round business. Last week, SI.com published its preseason power rankings, awarding the No. 2 spot in the nation to Kansas University.
Coach Mike Krzyzewski's Duke Blue Devils, featuring returning guard Grayson Allen and a mammoth influx of five-star recruits, took top billing. But Bill Self's Jayhawks beat out defending champion Villanova (No. 3), Pac-12 favorite Oregon (No. 4) and perennial powerhouse Kentucky (No. 5) for the second slot in the 16-team list.
Still, according to SI's Luke Winn, picking KU as a runner-up to Duke wasn't exactly a no-brainer.
"I settled on the Jayhawks due to the Bill Self Reliability Factor (seven top-10 finishes in adjusted efficiency in the past 10 years, despite significant roster turnover)," Winn wrote at SI.com, "and the quality of their starting perimeter trio. Whereas Duke's one potential flaw is that it lacks a pure point guard, Kansas's starting backcourt will have two seasoned floor generals and the potential No. 1 pick in the 2017 NBA draft in freshman wing Josh Jackson, making it arguably the best 1-2-3 punch in the nation."
In fact, Winn went on to rank the six best perimeter trios entering next season as well and put the Jayhawks atop that sub-list, thanks to the veteran production expected out of Frank Mason III and Devonté Graham and the anticipated immediate impact of Jackson (the top recruit in the Class of 2016, according to Rivals).
Mason, Graham and Jackson ranked ahead of: Duke's Allen, Luke Kennard and Jayson Tatum; Kentucky's De'Aaron Fox, Malik Monk and Isaiah Briscoe; Oregon's Dylan Ennis, Tyler Dorsey and Dillon Brooks; North Carolina's Joel Berry, Theo Pinson and Justin Jackson; and Villanova's Jalen Brunson, Phil Booth and Josh Hart.
Kansas was the lone Big 12 team to appear in SI.com's power rankings, though "The Next 16" list included No. 20 West Virginia and No. 21 Iowa State.
The Jayhawks will open the regular season, in Hawaii on Nov. 11, against SI's No. 12 team, Indiana. Four days later, Kansas will square off with preseason favorite Duke at New York's Madison Square Garden.
KU is slated to meet John Calipari's Wildcats at Rupp Arena, on Jan. 28, 2017.