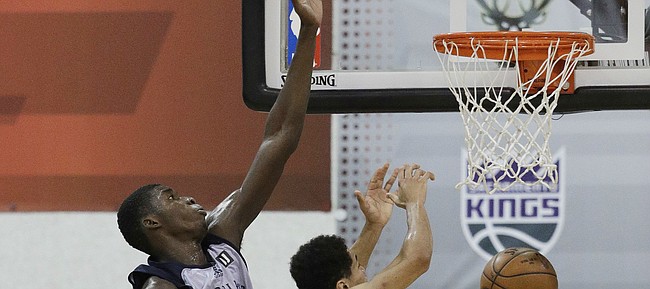 Former Kansas University forward Cheick Diallo has made a good first impression on his New Orleans Pelicans teammates.
"He talks too much already but he's a good dude," fellow Pelicans rookie Buddy Hield of Oklahoma told the New Orleans Times Picayune, referring to the 6-foot-9 Mali native, who had 12 points, 11 rebounds and four blocked shots in Sunday's 79-72 NBA summer league loss to Utah in Las Vegas.
In his debut on Friday, Diallo scored 11 points, grabbed seven boards and blocked three shots in a loss to the Los Angeles Lakers.
"He's a high-energy guy. He loves to block shots, rebound and do the little things, the hustle plays. He likes to compete," Hield added. Hield scored 21 points Sunday off 5-of-14 three-point shooting.
Diallo — he hit five of seven shots and went 2-for-2 from the line Sunday — admits he has made a pest of himself with his non-stop talking.
"Buddy is so funny. Every time I see him, he says, 'Oh Cheick, you talk too much.' I'll tell him, 'Go right!' I'll say, 'Trust me. I'm behind you, and I can see you should go right.' He'll say, 'Tell me earlier.' I'll say, 'I got you boss. I got you,'" Diallo added with a laugh.
Of Diallo, Pelicans summer league coach Robert Pack said: "He's young and raw, but his energy and his motor will get him through a lot of things. If you play hard, that'll get you on the court."
Former NBA forward Jerome Williams, who worked with Diallo one summer at the NBA Top 100 camp in Virginia, likes what he has seen from Diallo in Vegas.
"Those kind of guys, they get good fast in the league," Williams told the Baton Rouge Advocate. "He's not out there asking to post up and score 20 a night. That's what I like. To see him come out here and show those flashes of running the floor, getting good rebounds, high percentage shots, I always like that. I like this kid.
"His type of game is one of those things that in the NBA, two or three years from now, you're potentially looking at a (Dennis) Rodman-type player," former Findlay Prep coach Williams added of the 19-year-old Diallo, who was taken in the second round of the NBA Draft.
"A lot of people say, 'You're young playing basketball.' I'm just like, 'I don't really care,'" said Diallo, who has played basketball for six years after giving up soccer. "I just want to keep working hard every day and keep learning from my teammates, my coach, all my staff," he added to the Advocate.
Also Sunday, former KU guard Kelly Oubre Jr. scored 21 points off 7-of-15 shooting (1-for-5 from three, 6-of-7 from line) in the Washington Wizards' 88-80 summer league loss to Atlanta. He also had two assists to three turnovers. Second-year pro Oubre is 3-of-15 from three in two summer league outings.
Selden tied to Grizzlies: Former KU guard Wayne Selden Jr. will attend Memphis Grizzlies training camp this fall, Alex Kennedy of Basketball Insiders has reported. There has been no confirmation yet from the team or Selden. Selden, who is not playing summer league as he recovers from offseason knee surgery, did post a picture of the Grizzlies locker room on Instagram last week.