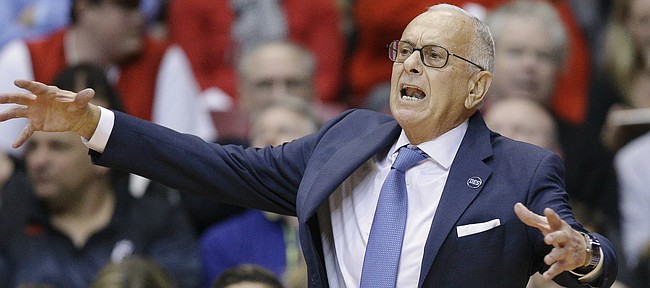 Well traveled basketball coach Larry Brown led SMU to at least 25 wins in each of the past three seasons, but won't be back for a fifth year with the Mustangs.
Brown told ESPN's Andy Katz on Friday he is resigning.
Tim Jankovich, a former Bill Self assistant at Kansas and SMU's associate head coach, will reportedly take over the program.
Though Brown didn't tell Katz his reason for stepping down — "I've got nothing else I can say right now," Brown told ESPN — CBS Sports reported the 75-year-old resigned because SMU didn't show interest in giving him a longterm contract extension.
A former head coach at UCLA and Kansas, Brown went 94-39 at SMU in his four seasons, and guided the Mustangs to the 2015 NCAA Tournament.
Brown spent much of his career in the NBA, winning a championship with Detroit in 2004, but also led both UCLA and KU to a Final Four berth and won the national championship at Kansas in 1988.
In what proved to be Brown's final season at SMU, he served a nine-game suspension and the NCAA banned the Mustangs from the postseason, after an investigation surrounding guard Keith Frazier found a "lack of coach control."
More like this story on KUsports.com