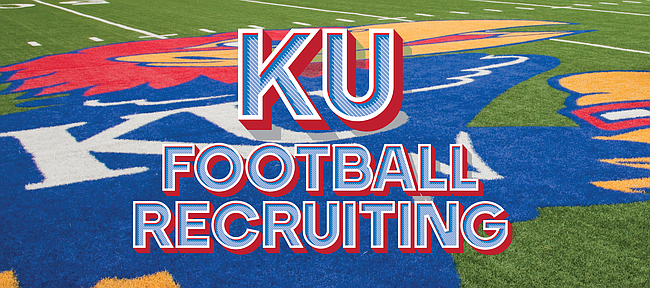 Kansas' Memorial Stadium may sit 811 miles from the Baton Rouge, Louisiana, city limits, but, to three-star defensive end Troy James, it felt closer than that.
James, the fourth athlete from Louisiana in the Class of 2017 to commit to the Jayhawks so far, said one of the biggest reasons he orally pledged his college career to KU late last month was the familiarity he felt between what he just went through at Madison Prep and what the Jayhawks are going through today.
"We want to go up there and help Kansas be known as a football school, too," said James of himself and fellow Louisiana prospects Mike Lee, Takulve Williams and Travis Jordan. "We know that right now it's a basketball school, but they used to say the same thing about the school I come from, 'It's a basketball school.' But we turned it around and made it known as a football school, too, and I want to help do the same thing at Kansas."
As enormous as that task might sound, given the more than 100 years of hoops success piled up on the Kansas basketball side, James said the Class of 2017 was capable of getting the job done.
There's no one reason for this belief, rather a combination of them. Like nearly all KU commitments, James said he and his bayou brothers were impressed by KU's facilities, fell in love with the campus and appreciated the way they were treated on their visits. But there also was something more — call it a feeling or a vibe — that led to these athletes feeling so comfortable with taking on the challenge at Kansas.
"The night Mike (Lee) committed, I called him and said, 'What made you do it,'" James recalled. "He told me, 'I know what it can be.' He said he liked everything about the coaches and the program."
Nineteen days later, on June 28, it was Lee who made the phone call and James who answered. This time, though, no questions were asked.
"When I did it, he called me screaming," James remembered. "He said, 'Bout time, let's get this party started.'"
Officially, the party can't begin until Feb. 1, when all 2017 football commitments are first eligible to sign their national letters of intent. And James admitted that even though he was solidly committed to Kansas, he was not going to shut down his recruiting entirely. That said, it sounds as if it would take something unexpected to change his mind. After all, joining the Jayhawks merely figures to be the continuation of what James has become quite accustomed to in high school — turning programs around. This year, he said, the Madison Prep football program plans to "finish it with a ring."
"We've gotten a lot of calls from people asking us, 'Why Kansas, why Kansas,'" James said. "Like I told 'em, we're gonna go up there, get to work and do something special."
More like this story on KUsports.com