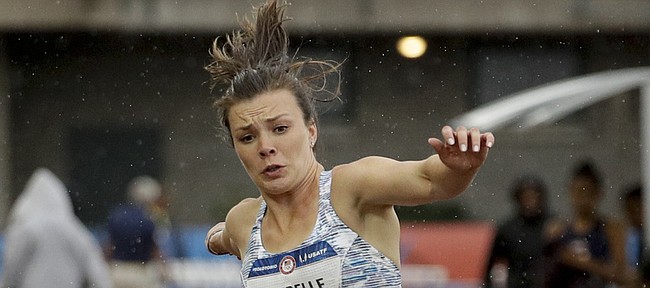 Eugene, Ore. — Kansas University product Andrea Geubelle, a three-time NCAA champion for KU from 2010-13, qualified for the Rio Olympics by placing third in the triple jump at the U.S. Trials on Thursday night at Hayward Field.
"It's pretty sweet," Geubelle said. "I had no idea what I was coming into because we had two girls with the standard and a handful that are right there. I'm dealing with injuries. I don't really know what's going on with my heel, but I had six jumps to leave it all out there on the track, and I walked out knowing that I did.
"Third place … as a competitor, I'd love to get first place, but I'm going to Rio and representing the USA, and I can't be more excited."
Geubelle opened her day with a mark of 45-01⁄4 on the first attempt of six, then went 45-91⁄4 on her fifth attempt.
Geubelle is the second current or former KU track athlete to qualify for Rio this year after Daina Levy qualified in the hammer throw.
Two other former KU athletes competed in the Trials on Thursday. Crystal Manning was 11th in the women's triple jump at 43-01⁄4.
And Mason Finley was first in the men's discus preliminares with a throw of 218-11 to qualify for tonight's finals.
"It was awesome — a lifetime best on my first throw," Mason said. "I think the rain slowed me down to where I wasn't throwing on an impulse. It shows I don't have to kill it. My dad and my coaches have been telling me that forever."