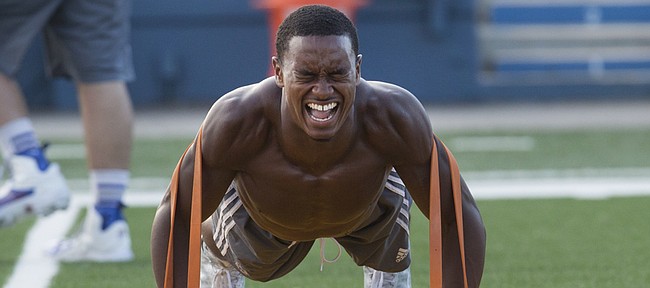 The response to a question put to LaQuvionte "Speedy" Gonzalez, aka The Streakin' Puerto Rican, came as swiftly as his feet move when the football is tucked under his arm, the scent of the goal line in the air.
The question: Is there a wide receiver who will surprise Kansas University football fans this season with his improved play?
"I'd have to go with Jeremiah Booker," Gonzalez said. "He never quits. He never gives up. He's the hardest worker I've ever seen."
It came as no surprise, then, when strength-and-conditioning coach Je'Ney Jackson named Booker as the fourth Workout Warrior of the Week, following defensive tackle Daniel Wise, defensive end Josh Ehambe and Gonzalez.
"He actually cries sometimes just to get through workouts," Gonzalez said of Booker. "Like, we'll be doing planks, and it hurts so bad, some guys will just drop. He cries it hurts so bad, and he still gets through it. He's going to shock some people."
Unlike Gonzalez, Booker won't shock anybody with his speed, but nobody should be surprised if the sophomore from College Station, Texas, looks quicker, faster than he did as a true freshman whose debut was delayed four games because of a broken collarbone suffered during training camp.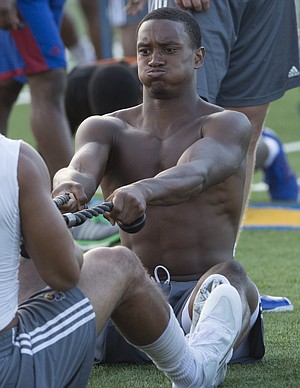 First-year KU receivers coach Jason Phillips puts a premium on speed over bulk, so shedding pounds without losing muscle defines Booker's summer mission. So far, so impressive.
"Last year, I was at 205 (pounds)," Booker said. "This year, they have me at 195 to get leaner, faster."
Subtracting late-night eating and fast-food fare has helped him to get there, as has his ability to give maximum effort and concentration consistently to every weight-lifting, stretching and running exercise.
"I feel faster," Booker said. "It was hard getting in and out of my breaks with all that weight. Coach Phillips has been working with me a lot on my route-running and my speed, so I'm getting better at that."
Jackson said Booker's ideal playing weight for this season, still to be determined, will be in the 190-to-195 range.
"He had gotten pretty bulky in the spring," Jackson said. "We wanted to get him leaner and just moving better."
Jackson agreed with Gonzalez's assessment of how hard Booker gets after it every day.
"It's crazy," Jackson said. "Golly, I don't know if I've ever told him to go harder. Even the guys we've nominated the past weeks for Workout Warrior, I've had to tell each one of those guys at some point, 'All right, you've got to pick it up.' Something. I never have to tell him anything.
"It's crazy. I don't know if I've ever been around a guy like him. A lot of people can do it for a few days or a few weeks, but, I mean, he's done it for a year, and the level is what's kind of astonishing because it's all as hard as he can freaking go."
At 6-foot-2, Booker is a big target. KU's quarterbacks looked to him often last season as a possession receiver. He caught 23 passes but averaged just 9.91 yards per catch and didn't find the end zone.
Booker's work toward improving that figure extends beyond the practice field, where he said he has benefited greatly from the tutelage of Phillips, whom he called "a great technician." Booker learns by watching as well.
He mentioned Dez Bryant, Calvin Johnson, Julio Jones and Demaryius Thomas as his favorite NFL receivers.
"I look up to Demaryius Thomas a whole lot, the way he plays the game, the way he runs his routes, the way he runs and his body stature," Booker said of the Denver Broncos star. "I watch his game film a whole lot to try to get some things from him."
There is nobody whose approach to improving Jackson would rather have young players study than Booker.
"He is shredded," Jackson said. "He's got no kind of fat on him at all, and, gosh, he's moving so well. He's a kid you don't have to coach. He's in here all the time. Late at night. I'll say to him, 'How did you get in here?' He's always in here, catching tennis balls, working on flexibility, doing little things with footwork. He's so intrinsically motivated."