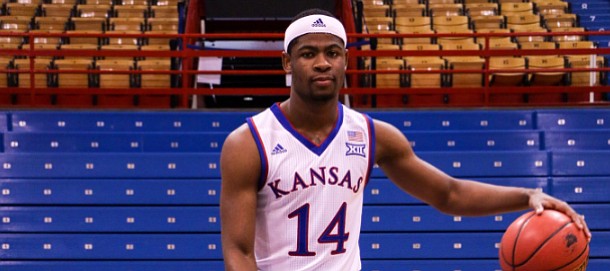 Some highlights of a phone conversation with former Mississippi State guard Malik Newman, who on Friday chose KU as his transfer destination over Western Kentucky, Oregon, North Carolina State and Miami. …
• On choosing KU the second time around: "I feel like a lot of the arrows were pointing toward KU the first time. I kind of took a different path. The second time around it was pointed right back at those guys. I don't see why it'd be a wrong move."
• On how it will benefit him practicing but not playing in games a full season before taking the court in games in 2017-18: "I think it'll be great. I think it'll be some high-level, competitive practices. I think it'll get me better and I can help those guys get better each and every day. I think all of us will benefit. I think I will benefit the most. I get a full year to learn the system and learn how he (Bill Self) likes things done and what he expects."
• On Bill Self and lead recruiter Jerrance Howard: "Coach Howard is more than a coach. He's like family to me. Coach Self is a very cool dude. I mean much cooler than I expected him to be. As everyone knows he is a great coach. I'm definitely excited to get up there and work with him. Coach Howard did a helluva job the first time of pulling me in. I'm just thankful for the opportunity, that those guys still wanted me the second time around. I'm just excited to get up there and work hard with those guys."
Podcast episode
Spodcasters Matt Tait and Tom Keegan examine what the addition of Mississippi State transfer Malik Newman means for the future of Kansas basketball.
Newman is planning on attending second session of summer school and will arrive early next week.
• On what position he'll play here: "On tape they probably say point guard, shooting guard, small forward. Those guys (at KU) … whoever gets it, they get it and go. I'm not sure what they have me down on paper. I play multiple positions. I'd say a guard."
• On his being known for winning four state high school titles and two tournaments with USA Basketball: "I feel as long as you win, everything else is being taken of because at the end of the day it's what basketball boils down to -- who wins. You win and everybody loves you."
• On KU's McCarthy Hall: "Outstanding. I've never seen anything like it."
• He dispelled any concerns fans have of him practicing a year, then leaving for the NBA before playing in games for KU: "I mean I definitely will be playing in a Kansas jersey. After my first year of playing (in games in 2017-18) we'll see how everything weighs out and we go from there. I'll definitely be there for two years, my sit out year and the year that I'll play."
— More later on kusports.com and in Saturday and Sunday's Journal-World.
---
More reaction to Malik Newman's arrival
---
More like this story on KUsports.com