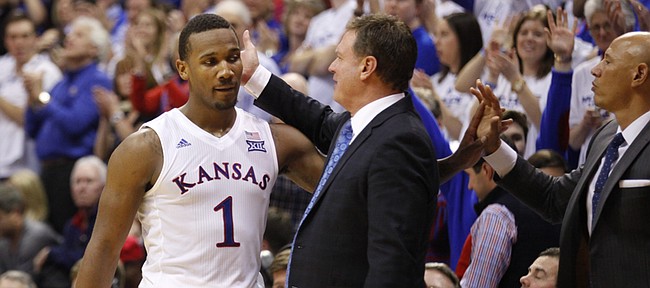 Playing Kentucky on Jan. 30 — eight games into the Big 12 Conference season — made for a rather unique experience for Kansas University's basketball players and coaches Saturday night in Allen Fieldhouse.
"It was almost a freebie. It was almost like you're playing an exhibition game in the middle, because it didn't mean anything in the big picture except for momentum and seeding and intangible things," KU coach Bill Self said after the Jayhawks' 90-84 overtime victory over the Wildcats — a win that helped give the Big 12 a 7-3 head-to-head advantage in the one-day Big 12/SEC Challenge.
"Cal (Kentucky coach John Calipari) is going to be on his guys, 'Now we've got to get back to what we're doing, got to get back to the grind.' We'll do the same with our guys," Self added.
KU-Kentucky didn't affect conference records any — KU takes a 5-3 league mark into Wednesday's 8 p.m. resumption of league play against Kansas State (13-8, 2-6) in Allen — but it wasn't exactly meaningless, either.
"(It) could be a résumé game and help us on the seed line," Self said of the NCAA Tournament. "Hopefully it'll give us momentum going back into league."
Other than that, "I think this means more to our fans than us, although getting hammered by them like we did last year, we needed to come back and get a quality win against a team that hammered us by 30 (72-40 in 2014 Champions Classic)," Self said. "I think there was a lot of respect on the floor with the players. It was a fun game, a game in which our guys looked forward to playing."
The fans were up for it, cheering so loud that Kentucky senior Alex Poythress said it was the loudest arena he'd played in his career.
"It wasn't as good (loud) as the OU game, though," Self said of KU's 109-106 3OT win over the Sooners on Jan. 4 in Allen. "We didn't do anything from a playing standpoint, to make athletic plays or have a short run or mini-run. We never did that.
"It's fabulous," Self added of the fieldhouse. "There's other places that are great. I doubt there's any one better."
KU's Wayne Selden Jr., who scored a career-high 33 points, said the crowd inspired the Jayhawks to claim their 17th win against four losses. UK fell to 16-5.
"I don't think I'll ever play in an atmosphere like I played in tonight," Selden said. "I feel like, 'How does it get any better?' I don't know how it gets any better than this atmosphere it was tonight."
It remains to be seen if KU can build on the victory and improve on its 5-3 league start, which includes a 1-3 mark in road games.
"In the big picture, it didn't really mean much," Selden said. "It meant a lot for pride, for tradition. It was a great time to get our momentum going and juices flowing. Our biggest thing now it taking our show on the road."
Selden, in the final analysis, was a bit better than Kentucky's Tyler Ulis, who scored 26 points with eight assists and three steals in 45 minutes.
Selden's hustle play to begin overtime set the tone for a session in which KU outscored Kentucky, 14-8 (which included a meaningless three by Ulis at the buzzer). Selden flew into the stands chasing a loose ball in the backcourt on the opening possession. He flung the basketball high in the air, KU gaining possession on offense thanks to the save.
"That just gets the place going, plays like that," Selden said. "Usually you don't want to save the ball on the opponent's side (of court), but I knew my guys. Throw it up in the air, and I know somebody's going to get it. Throw a 50/50 ball up in the air, and Perry (Ellis) got it."
Selden hit two free throws to open the scoring in overtime, then after Skal Labissiere hit a jumper to tie it, put KU ahead to stay with a drive and resounding dunk with 3:10 left in the extra session.
"Wayne was extreme tonight," KU guard Frank Mason III said. "He did what I know he can do. He drove the ball downhill, found guys when they were open, did what we wanted him to do."
Selden, a 6-5 junior from Roxbury, Mass., said, "It was a great experience. The place was rocking. I had a lot of family in town (including grandfather who'd not yet seen him play in college). It was really a blessing."
Of busting loose for his career high (previous high was 25 against both Iowa State and Vanderbilt), he said: "I felt it was something that had to be done. Think about the past, how we've been playing recently. We've been kind of stale. I was just coming out trying to be enthusiastic and have energy."
KU-UK again?: Self was asked if he'd like to play Kentucky every year, considering the programs are the top two programs in all-time victories (UK has 2,194, KU 2,170).
"The Big 12/SEC Challenge ... I don't know what they'll do, but I would assume Cal will definitely say, 'They're coming back to our place next year.' I don't think he'll pass on that one," Self said.
No announcement has yet been made, but it's assumed KU will return the trip to Rupp Arena in Lexington next season.
"To have us play home and home in a year we don't play the Champions or Big 12/SEC? I'd be good with that. Cal will play anybody. You look at our schedule. We'll play about anybody. Our league is so good. When you are playing a top 25 RPI game every (league) game also, those games (KU-UK) sound all great. I'd love to do it. If we did, I'd definitely not do some other things we're trying to do now (regarding playing difficult teams on slate)."
More like this story on KUsports.com