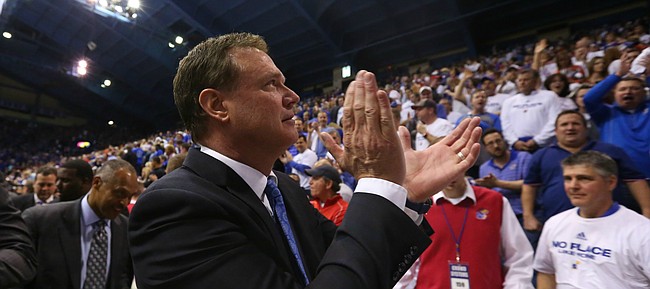 In the area of coaching defense, Bill Self takes pride in the shiny staples in his toolbox. Motivational tools, instructive tools, video tools, all employed to tweak his helping man-to-man defense in just the right way for that night's opponent.
And then there is that roll of duct tape hidden under a pile in the corner of the toolbox. He doesn't even like to look at it very often for fear he might surrender and use it when the tried-and-true methods fail. It's known as the triangle-and-two, one of the more common "junk" defenses employed by coaches looking to change the flavor of a game.
Self used it with great success late in games vs. Purdue and North Carolina on the way to the 2012 Final Four.
Photo Gallery
Kansas basketball v. Kentucky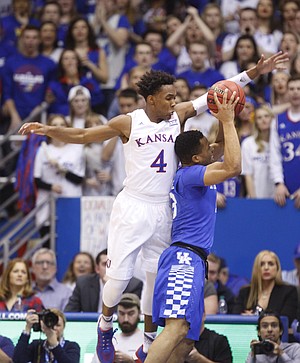 Images from Saturday's matchup between the Kansas Jayhawks and Kentucky Wildcats at Allen Fieldhouse.
The stubborn, successful coach turned to it again early in the second half of Saturday's 90-84 overtime victory against Kentucky. It worked again, but it's not as if Self was walking around bragging about it afterward. He would have been just as happy if nobody had noticed.
"You know, to me, it's, it's ... not embarrassing by any stretch, but if you have to go to a junk defense in order to be good defensively, then you're not going to last too long," Self said. "So we have to tighten things up. But it is a good change of pace, or change of momentum type thing. And then if you can get a couple of stops, sometimes they get hesitant, and that's kind of what happened a little bit tonight."
The defense calls for two quick defenders to play man-to-man and the other three to play a three-man zone in the shape of a triangle. Frank Mason III and Devonté Graham played man-to-man against Kentucky guards Tyler Ulis and Jamal Murray and received help from the three defenders in the triangle.
Self used it because Kentucky's 5-foot-9 Ulis had been shredding KU's defense in an even louder way that even Oklahoma State's Jawun Evans and Iowa State's Monté Morris had in victories against Kansas. Less than two minutes into the second half, Ulis had scored 18 points, made 8 of 10 field goals and had five assists, no turnovers and three steals. Then Kansas switched its defense and Kentucky turned it over on its first possession against it and went on a three-minute scoring drought.
Ulis played all 45 minutes and finished with 26 points, eight assists and three turnovers. Whereas the junk defense slowed Ulis, nothing could stop KU's Wayne Selden Jr. (33 points) from having the best game of his career.
"Yeah, I didn't have many openings," Ulis said of playing against the triangle-and-two. "I forced a few things late, should have given the ball up."
Podcast episode
Kansas basketball coach Bill Self rehashes the Jayhawks' overtime victory against fellow blue blood Kentucky, and says while KU labored offensively much of the night, the players got KU the needed result.
Graham said that he and Mason communicated on each possession, discussing which player would check Ulis that time down the floor, doing so in order to prevent each other from growing too exhausted to be effective.
The defense made Kentucky slam on its brakes for the first time all night.
"They were chasing Tyler and Jamal and it made it difficult to get into our sets, so we had to change it on the fly," said Kentucky's Alex Poythress, who had a big night with 13 points, eight rebounds, a block and two steals.
Mason said the team practiced the triangle-and-two for a few days leading up to the Kentucky game.
Podcast episode
Kansas guards Wayne Selden Jr., Frank Mason III and Devonté Graham describe how the Jayhawks battled back to defeat Kentucky in overtime at Allen Fieldhouse.
"We did a good job with it tonight," Mason said. "It helped us a lot."
Said Self: "It basically bailed us out because we had such a hard time guarding the ball. Still, we didn't do it right, but we did it well enough to disrupt their offense."
A temporary, timely fix. For one night, Self was like that fisherman who takes such great pride in attracting fish with his home-made lures, yet when on the verge of getting skunked resorts to turning over a rock, grabbing an earthworm and baiting his hook with it. The next day, he returns to polishing his lures, adjusting the look of them here and there and more convinced than ever that the shiniest items in the tackle box will bring home the most meals.
— See what people were saying about Kansas vs. Kentucky during KUsports.com's live coverage.
---
More news and notes from Kansas vs. Kentucky
---
---
---