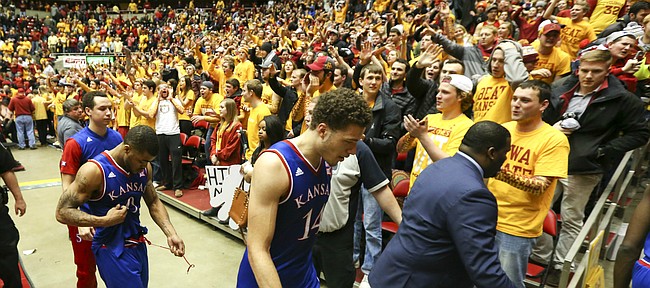 Ames, Iowa — Players-only meetings are nice. On-court leadership means a great deal more and that can't come from the coach. It can't come from the equipment manager. It's not something he can pack in a bag and bring on a road trip.
It has to come from the players so that when good momentum turns bad, someone can light a fire and extinguish the home team's. Yet again, such leadership was lacking for the Kansas University basketball team, which unlike in trips to Morgantown, W.Va., and Stillwater, Okla., was only half bad Monday night. The second half. The decisive half.
Iowa State defeated Kansas, 85-72, in Hilton Coliseum because the home team could take a punch and bounce off the ropes and the visiting team could not. With no home crowd to supply the smelling salts, Kansas had the look of an Allen Fieldhouse visitor, dazed and confused.
Ideally, bold leadership comes from the point guard and the most experienced player. In the case of Kansas, it must originate elsewhere because point guard Frank Mason III and senior Perry Ellis are two of the least vocal players on the team. Ellis can't do it all and he's doing what he does very, very well of late.
Photo Gallery
Kansas basketball v. Iowa State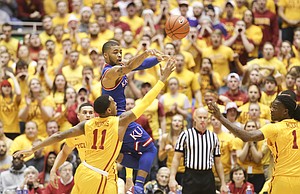 Images from the Jayhawks' game against the Cyclones on Monday at Hilton Coliseum.
So where can Kansas turn other than to its coach?
Devonté Graham has the most outgoing personality in the starting lineup, Wayne Selden Jr. the most dominant one. If somebody puts up a bad shot, Selden has no problem letting them know it. But what if Selden is the one with the quick trigger? Who says anything then? Nobody but the voice from the bench.
"I think it's very demoralizing when you leave a timeout saying we're going to run a play and then the play is broken off and the guy just cranks up a three," Kansas coach Bill Self said. "If we wanted him to shoot a three with 25 left on the clock we would have told him to do that."
Self did not identify the player in question, but his reaction to a first-half three-pointer from Selden with 16 seconds left on the shot clock, a stunned expression, palms pointing to the air, indicated that could have been the shot to the coach's gut. And it was the only three-pointer Selden made in six attempts. Self always has maintained he judges the wisdom of a shot when it leaves the hand, not whether it goes through the net, and he proved it at that moment.
Kansas put up just six threes in the second half and missed every one of them, losing the half 49-29. KU tends to have good halves when it makes three-pointers and bad halves when it misses them, a somewhat surprising formula given that it has such a gifted, diverse scorer in Ellis (game-high 23 points, 15 of KU's second-half points). The perimeter players need to target Ellis even more than they do, because he doesn't need to get hot from outside to be hard to guard.
Everything was fine when Kansas hit 5 of 11 threes in the first half, which ended with the visitors leading by seven points.
The Jayhawks left their composure in the locker room for the second half. Mason, who played Monté Morris to a draw in the first half, turned it over four times in the second half and Morris (21 points, nine assists, zero turnovers) had little trouble steering his team to victory.
Iowa State never led until talented reserve Deonte Burton hit a tie-breaking three-pointer with 9:08 left, which put the Cyclones five points into an 11-0 run that inflated the volume of the crowd and deflated the spirit of the Jayhawks.
Ellis continued to make winning plays and Iowa State pulled away, but he had so little company.
Not many games that have one lead change have that change come so late and result in the come-from-behind team winning by 13 points.
"We lost some composure," said Ellis, who was not guilty of that and had another terrific performance in his 36 minutes. "You can't do that when you're away and it really hurt us."
Again.
"I really believe that our shot selection is a big deal," Self said, adding defensive intensity as a concern. "The things that you have to do away from home, I don't think that we're very good at doing them yet and there wasn't a lot of poise down the stretch."
After shooting .576 in the first half, Kansas committed 10 of its 16 turnovers in the final 20 minutes and made just 4 of 15 shots not taken by Ellis. He needs a lot more help than he's getting. Soon.
— See what people were saying about the KU-ISU game at Hilton Coliseum during KUsports.com's live coverage.
---
More news and notes from Kansas at Iowa State
---
---
---