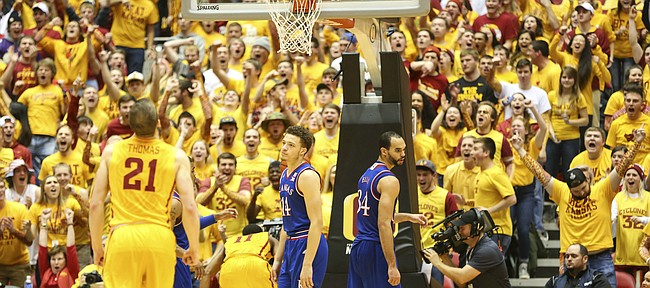 Ames, Iowa — Kansas University's last three road games have resulted in ... an 11-point loss at West Virginia, a 19-point shellacking at Oklahoma State and now a 13-point drubbing Monday at Iowa State.
The fact the No. 4-ranked Jayhawks led the No. 14 Cyclones by seven at halftime of what turned into a 85-72 loss made somebody wonder whether KU coach Bill Self left Hilton Coliseum happier or more concerned than he left WVU Coliseum or Gallagher-Iba Arena.
"I don't think you are ever happy when you get your (butt) kicked," Self said after KU dropped to 16-4 overall and 5-3 in the Big 12, exact same records as Iowa State.
"I think the other two games I was more disappointed from an intangible standpoint. Today I was more disappointed from a poise standpoint. We didn't exercise much poise when it got tight. We cut it to four, 66-62, and had a chance. We didn't play well after that," Self added.
Photo Gallery
Kansas basketball v. Iowa State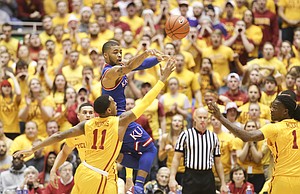 Images from the Jayhawks' game against the Cyclones on Monday at Hilton Coliseum.
The Jayhawks also slipped badly a bit earlier than that part of the game. KU committed five straight turnovers after grasping a 57-55 lead at 9:50. An 11-0 ISU run, one that stretched to 24-10, put this one away.
"We haven't played with a lot of poise away from home," Self said. "We probably played better tonight than the last two road games because at least we had a good stretch before we stunk, where the other two it didn't seem like we had a good stretch. A little bit of a trend ... I really believe shot selection is a big deal and also believe our defensive intensity. The things you have to do to win away from home we are not very good at doing them yet."
Self didn't hide his displeasure with his team's guard play on Monday night.
"I can't say what I really think but it was disappointing, because their three guards just totally dominated the game. I mean Nader (Abdel, 17 points, 3-3 from three), Thomas (Matt, 13 points, 3-6 from three) and Morris (Monté, 21 points, nine assists, 2-4 from three) ... that's about as big a beat-down as we've had with guards just dominating the game. Morris dominated the game (but) they all played great."
Guard Frank Mason III, who had 16 points, three assists and six turnovers, played 32 minutes.
"I think it's a little frustrating for him. When things don't go well he tries hard, but is not as poised," Self said. "Of course you've got to be poised on the road. I'd say that about all our guys. I felt if we could putter around, throw it to Perry (Ellis, 23 points, 10-18 shooting), let Perry work rather than our guys just cranking off shots and doing whatever. It wasn't like we shot a ton (KU was 5-17 from three to ISU's 9-21) or we did this or that, but when things started going south we lost all our energy, too."
Self didn't like the fact KU launched early in the shot clock. He was even displeased when Wayne Selden, Jr., hit a first half three early in the shot clock. Selden had 11 points off 1-of-6 three-point shooting in 30 minutes.
"I don't think I did a good job of getting my teammates easy shots," Mason said. "I had too many turnovers. Both ends of the floor I think we did a bad job."
ISU, which outscored KU, 49-29, the final half, was so dominant over KU the fans elected to not storm the court as they normally do when they beat the Jayhawks in Ames.
"We didn't fight back late in the game," Ellis said.
"From the under 16 (minute) time out they dominated the game," Self said. His Jayhawks hit 57.6 percent the first half, 40 percent the second. "You don't make a three the second half (0-6). Not that we took a ton of threes, but on the road you have to have time to shoot. You've got to be able to guard your man. They played 'take 'em' a lot late. Their actions didn't hurt us as much as their players. Their guy just whipped our guy defensively for the most part late in the game."
Of KU's five consecutive turnovers in the second half and total second-half meltdown, Self said: "I'd have to watch (tape). I think a lot of it was self-inflicted. We didn't do a good job handling the ball. I thought our shot selection was very poor, too. The first half we made a couple shots I thought were bad shots. The second half I didn't think shot selection was great. That's the way ball goes. When you play away from and start missing the other team makes a run. The basket sometimes looks like a thimble. We didn't make any shots down the stretch. The only offense we had was Perry driving it."
KU will next meet Kentucky at 6 p.m., Saturday, in Allen Fieldhouse.
— See what people were saying about the KU-ISU game at Hilton Coliseum during KUsports.com's live coverage.
---
More news and notes from Kansas at Iowa State
---
---
---
More like this story on KUsports.com