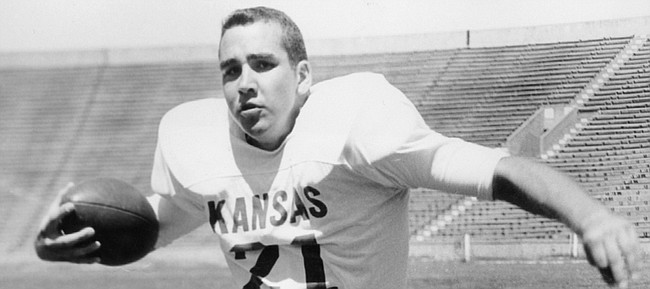 Big, bad Dick Butkus, savage middle linebacker of the Chicago Bears, and countless other mean men slammed him hard to the turf, but John Hadl never missed a start because of injury during a spectacular 16-year AFL/NFL career.
Orneriness, stubbornness, etc., cost him a start here and there, but never injury.
So when a hard fall in the garage of his Lawrence home last May cost him a hospital stay of more than a week in duration, that hints at the extent of the gravity of the fall.
"I don't remember any of it," Hadl said Thursday from his desk in the Williams Fund offices. "I got a big concussion, hit my brain hard."
Hadl was under strict orders to summon a nurse whenever he needed to get out of his hospital bed or chair. When he attempted to get up, a recorded device scolded him to sit back down! Hadl fumbled with the device, trying to disconnect it, and when his visitor that particular day ratted him out to a nurse, he shot a glare that would have scared Butkus in his prime.
"Don't remember any of that," Hadl said with a smile. "(Wife) Diana was there with me every day. I do know that."
Hadl, who created so many memories that football fans of Kansas University, the San Diego Chargers and Los Angeles Rams never will forget, will be honored by the athletic department tonight at a dinner at the Oread Hotel and tomorrow in Allen Fieldhouse during halftime of the Kansas-Texas basketball game.
One of his most cherished memories is of the day he switched college of choice from Oklahoma to Kansas. Hadl doesn't care to talk much about his achievements, but since that day is more a story about his father, Jess Hadl, and his college coach, Jack Mitchell, he never minds telling it one more time.
First, a word on Jess. It's with great pride that Hadl, 75, discusses his late father.
"He was a mechanic all his life," Hadl said. "He started in eighth grade. They took him out of school because of hard times and started him working. Worked until the day he died, two jobs most of the time."
Jess' son, No. 21, star running back and defensive back for Lawrence High, was at home when he saw a man on a horse with another horse trailing coming toward the Hadl house.
"I can still see him coming around the corner. 'Is that coach Mitchell?' It sure as hell was," Hadl relived the moment. "He was holding two drinks, wasn't even holding the strings, just guiding the horse with his knees. And the other horse was just following him right to our front door. 'Jess here?' 'Yeah, I think he is.' He and my dad got along great. They both liked horses and bourbon."
As the two men set off for the bourbon-enriched horse ride, Hadl was bound for Oklahoma. When the men returned, he was committed to Kansas. Hadl has been grateful for that day every day since. It takes a tough young athlete to back out of a commitment to a school and legendary coach (Bud Wilkinson). Since toughness is the word that best defines Hadl, he never feared the moment of relating his change, never rued the decision to let down Oklahoma.
Recruit to recruiter
More than a half-century later, Hadl's university still is thanking him. And why not?
In addition to helping to fund the athletic department as a closer on big donations for the Williams Fund, Hadl's company brightens the days of co-workers.
His life in football enabled him to cross paths with big names in sports and Hollywood. Still, Hadl kept returning home. He has served his university as an athlete, a an assistant coach, an administrator. The best recruit in which Hadl had a hand in landing was to the benefit of the basketball program.
"John was a big reason why I came to Kansas when the job opened," basketball coach Bill Self said Thursday. "He basically called and said, 'Now, listen here, this is what we're going to do and this is what you're going to do.' He has had more experiences than just about any man I know, as far as hanging out with (Joe) Namath or (Lance) Alworth or whoever.
"But more importantly than all that, John Hadl is a great guy. He's a guy's guy. He cares about people. He's so impressed by other people's successes, but he never talks about himself when he's done more than all of us combined in his lifetime."
Sure enough, a question to Hadl about a famous run for Lawrence High against Wyandotte in a matchup of the state's two top-ranked teams at packed Haskell Stadium elicited a self-depricating remark and a tribute to the greatness of one teammate's play and another's career.
"Jim Ragan knocked the heck out of their All-American, I took off running and there wasn't anybody around me," Hadl said. "I was worried about my speed and they about caught me."
That memory led him to raving about the late Doyle Schick, a teammate at LHS and KU.
"Helluva player," Hadl said. "His senior year in high school, he was an All-American in football, all-state in basketball, All-American in track and had the best javelin throw in the nation. He was a helluvan athlete. Best blocker, technique, he'd play fullback, block for me and (Curtis) McClinton. He'd get 'em on the ground every time."
Special KU records
An All-American at both halfback and quarterback for Kansas, Hadl played halfback and defensive back as a sophomore, quarterback as a junior and senior. The two Kansas records he holds came on special teams. He had a 94-yard punt vs. Oklahoma and a 98-yard punt return against TCU.
"Like hitting a 2-iron, you hit a really good 2-iron you don't know how you did it," Hadl said of the record punt. "It just took off. I came off the field and Jack Mitchell said, 'John, that was a damn national record.' He was so fired up."
Late to life as a passer, Hadl quickly made up for lost time. When he retired in 1977, the only quarterbacks who ranked ahead of him on the all-time NFL passing-yardage list — NFL records include AFL statistics — were Fran Tarkenton and Johnny Unitas. Yet, Hadl's 33,503 passing yards never earned him enshrinement in the Pro Football Hall of Fame in Canton, Ohio. He was inducted into the College Football Hall of Fame in 1994.
Until giving up golf a couple of summers ago because he became too stiff to turn properly, Hadl was prompted by golf buddies every Wednesday to tell tales of nights on the town with Hollywood friends such as famous crooner Dean Martin. He lunched with legendary actor John Wayne and remains good friends with former New York Jets quarterback Broadway Joe Namath.
One Hadl-Namath conversation came about purely by accident.
"We were down for the Orange Bowl and I was in (former Kansas coach Mark) Mangino's suite," Hadl said. "The phone rings and I answer it: 'Who is this?' 'Joe Namath.' 'Joe, you (so and so), this is Hadl!' So he went crazy. And he told me he wanted to meet Mangino because they were both from that same area of Pennsylvania. I said, 'Come on down. I know he'd like to meet you.' I told coach and he said, 'Hell, yes. Get him down here.' Joe drove 50, 60 miles the next day.
"I was sitting in the hotel lobby waiting for him. He walked through that lobby and of course everybody said, 'There's Joe Namath!' I took him up to the room and they talked about Pennsylvania for about an hour. Joe's as regular as you can get. He doesn't take himself seriously at all, just a really good guy."
That's how others routinely describe Hadl, a once-great quarterback who coached Hall of Fame passers. As head coach of the Los Angeles Express of the USFL, Hadl had Steve Young at quarterback. As quarterbacks coach of the Denver Broncos, Hadl tutored John Elway.
Hadl said he thinks he could have coached current Denver Broncos coach Gary Kubiak, if not for bad luck in the weather department.
Hadl tried to recruit Kubiak, from Pius X High in Houston, and convinced him to come to Lawrence for a campus visit.
"I almost had him," Hadl said. "It snowed about 50 feet, it seemed like. The wind was blowing, a big blizzard. We went to his hotel-room door and the snow was so deep he couldn't open the door to get in the room."
Kubiak, father of current KU wide receivers coach Klint Kubiak, went to Texas A&M.;
It wasn't meant to be, just as it wasn't meant to be for Hadl to go to Oklahoma. He had the courage to change his mind and he and the Kansas athletic department have been better off for it ever since.
More like this story on KUsports.com