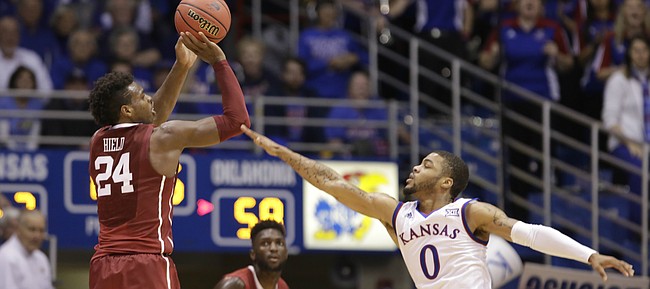 The Big 12 basketball title might stay in Lawrence, but a list of five players from the conference most capable of taking over a game and leading their teams to victory would not include anyone from Kansas University.
The Jayhawks faced one of the five Tuesday night in Stillwater and face two more in a three-day span from Saturday to Monday, when the Jayhawks play Texas in Allen Fieldhouse and Iowa State in Hilton Coliseum.
What a brutal conference.
1. Buddy Hield, Oklahoma: National player of the year candidate makes so many deep, well-guarded shots that he makes big deficits seem a lot smaller. He leads the Big 12 with 26.1 points per game and ranks second to Howard's James Daniel (28.5) nationally. Hield's a .515 three-point marksman, a remarkable figure for such a high-volume shooter who draws so much attention from defenses.
Hield has shot .571 from three in the six games he has torched an opponent for 30-plus points. It sounds like a strange thing to say about a player who scores more than twice as many points as the team's next high scorer, but at times it seems as if the Sooners don't feed Hield enough.
2. Jawun Evans, Oklahoma State: His two bullet bounce-passes off the dribble in the blowout victory vs. Kansas were among many examples of why teammates love playing with him. Ranked No. 36 in the Class of 2015 by Rivals, the point guard from Dallas has exceeded expectations. So quick and such a great passer, he has the body control to finish accurately at the rim.
"The thing that I like about him, he asserts himself, but he controls the game from an unselfish standpoint too," Kansas coach Bill Self said of Evans. "He's so fast. I don't know that we did an awful job on him, and he got 22 and eight (assists). He makes his free throws. He's really good. I would say he's really understanding how to play at this level and really growing a lot real fast right now. People should be excited about him. He's good."
So good that he dropped 42 points in a two-point loss to Oklahoma with just two three-pointers and four free throws. Teams, including Kansas in the rematch, might decide to play some zone against the Cowboys, based on how well Baylor did with it in a 79-62 victory in Waco. Evans scored eight points in that one.
3. Georges Niang, Iowa State: Double him down low, and he'll find the open man. Guard him with size, and he'll pull his man to the perimeter and burn him from outside or drive by him. He has a clever assortment of shots inside and unlike many big men who love launching three-pointers, he actually makes a lot of his (41 percent). Niang's averaging 21.5 points in conference games and has an overall shooting percentage of .538, an .836 success rate from the line. He was very good as a freshman and gets better every year. He loves taking the big shot with games on the line and has averaged 20.3 points in his past five games against Kansas.
4. Isaiah Taylor, Texas: Longhorns junior point guard uses Evans-like quickness to get to the lane with similar success. Taylor's 22.2 scoring average in confrence play ranks second only to Hield's (28.2). He had a 23-point game vs. Kansas as a freshman and another as a sophomore.
5. Monte Morris, Iowa State: As if Niang doesn't give teams enough to think about in late-game situations, Morris loves to shoot with games on the line as well. The ball is in his hands, so he gets to decide where the ball goes. Morris contributed a jumper, a big rebound and two free throws at the end of the Cyclones' 82-77 victory Monday night against No. 1 Oklahoma.