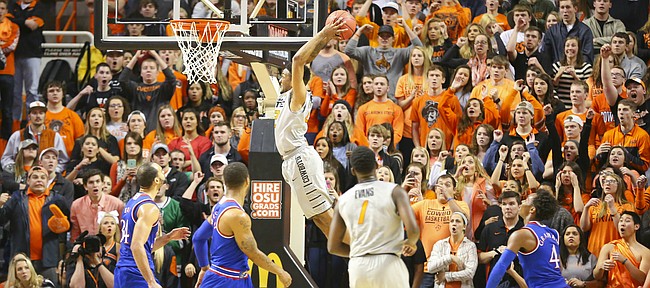 Stillwater, Okla. — One team on the Gallagher-Iba Arena court Tuesday night looked like the type Bill Self always has loved to coach. More athletic than the opposition. Quick, bouncy, rugged getting rebounds in traffic and chasing down loose balls. Hitting clutch shots every time the lead dwindled.
That team was Oklahoma State, and the Cowboys took it to a Kansas University squad that looked, in a word, slow — physically and mentally slow.
In every way possible, No. 3 Kansas looked overrated in taking an 86-67 beating in Gallagher-Iba, where the volume was high and the attendance low.
The building wasn't even close to full. Many no doubt stayed away figuring it wouldn't be much of a contest. They couldn't have been more right and more wrong about that. It was a mismatch, all right, but one those who stayed away would have enjoyed so thoroughly.
Photo Gallery
Kansas basketball v. Oklahoma State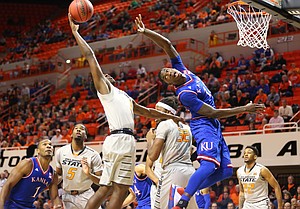 Images from Tuesday night's game between the Jayhawks and Cowboys at Gallagher-Iba Arena
Oklahoma State had lost eight games, but nothing about the way they shredded KU's step-slow man-to-man defense suggested this was a team that came into the night 1-4 in the Big 12.
Kansas defenders not only couldn't stop penetration but were slow to get to three-point shooters and the Cowboys made 11 of 21 shots from long range. Seven different players made threes. All 10 Cowboys scored and all 10 had at least one rebound.
"They looked so athletic going after the ball," Self said of the Cowboys.
And Kansas, which looked so terrific in scoring a 109-106, triple-overtime victory against Oklahoma, looked just the opposite. KU hasn't been nearly the same team since that game 16 nights ago.
"Tired? No," sophomore guard Devonté Graham said. "I'm not going to make any excuses and say we were tired. We're good athletes in good condition."
Frank Mason III hasn't played with the same zip, raising the question of how healthy he is at the moment.
"Yeah, he's fine," Self said of the player who routinely has multiple crash landings. "He may be sore, but hell, everybody gets sore, so I don't think it's anything major at all. ... We're not getting much out of our guards at all. We're not going anywhere unless Frank plays well. And Devonté and Wayne (Selden Jr.) have to be consistent."
On paper, KU's experience makes it well suited for the road and for avoiding one-sided upsets. Not the case in this one. Perry Ellis, Mason and Selden, with a combined 10 years of college basketball experience, combined to make 10 of 30 field goals and 3 of 12 threes, with two assists and six turnovers.
Podcast episode
Kansas basketball coach Bill Self discusses the Jayhawks' 86-67 loss at Oklahoma State.
Oklahoma State's Jawun Evans, college basketball's newest superstar, without question was the best player on the floor. He controlled the game by getting his body and then the ball to go where he desired. Evans, who scored 42 points in a two-point loss at home to Oklahoma, dropped 22 points, eight assists and six rebounds on Kansas. He makes every team look slow by comparison.
After praising Evans, Self openly questioned his players' toughness. When he goes there, he generally gets the intended result. Toughness can develop, but becoming more athletic lies more in tangibles than intangibles. A lack of quickness can be camouflaged in a variety of ways, such as by hitting three-pointers, but it can't be significantly changed.
Oklahoma State coach Travis Ford, who has won the past three games in Stillwater between the schools, detailed how he thinks the Cowboys' athleticism influenced the game.
"Athleticism is not just about jumping," Ford said. "Athletic can be fast, quick. I thought we had a lot of deflections, which we keep track of. We took two charges that I know of that we moved from weak side to strong side."
The Cowboys were quicker to loose balls. Often, such plays are characterized as purely effort plays, but the truth is with both teams trying hard, the quicker team takes possession of more of them.
Obviously, Kansas is a far better team than it showed Tuesday, but it's also a flawed one. No easy solution exists to the much-discussed shortcomings at the center spot. And more often than in most years, Kansas will face teams with the sort of edge in athleticism that leads to doing a lot of the little things better. Little things become big things on night shots aren't falling.
— Sports editor Tom Keegan appears on The Drive, Sunday nights on WIBW-TV.
— See what people were saying about KU at Oklahoma State during KUsports.com's live coverage
---
More news and notes from Kansas at Oklahoma State
---