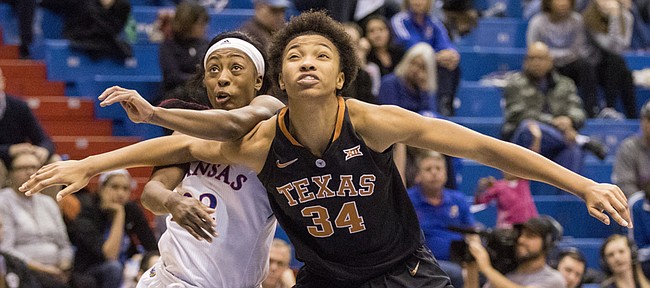 Figuring out a way to become the first opponent this season to defeat No. 4 Texas would've been difficult enough for Kansas University's women's basketball team.
When the struggling Jayhawks spotted the mighty Longhorns 17 points, arduous morphed into impossible, and UT remained undefeated with a 75-38 drubbing Wednesday night at Allen Fieldhouse.
KU trailed 17-0, committed six turnovers and missed seven shots before sophomore Lauren Aldridge gave the home team its first points on a three-pointer from the top of the key, 6:20 into the Jayhawks' seventh consecutive loss.
"We shot ourselves in the foot a bunch," first-year KU coach Brandon Schneider said of the awful start. "We turned it over. I thought we looked intimidated and timid in far too many spots.
"And the frustrating thing was I didn't think we played a possession that way against Baylor (in a 58-40, Jan. 6 home loss) with that kind of mentality. I'm disappointed that it took that kind of start for us to kind of snap out of it and play better in the second quarter."
Kansas (5-11 overall, 0-5 Big 12) only made one other shot in the first quarter, Texas scored 12 points off KU's eight turnovers and Texas led 28-7 entering the second.
Said Aldridge, who led KU with 12 points and shot 4-for-9, hoisting every attempt from behind the three-point arc: "We were sending three people back and it felt like they were shooting layups on the other end, so that's the frustrating part."
The Longhorns sprinted to 30 points off KU's 21 turnovers to cruise.
Schneider credited UT coach Karen Aston and her players for putting KU away so quickly and thoroughly.
"I think it says something about them. Because they're playing a team that hasn't won a game in the league and a team that they're obviously supposed to beat," Schneider said, "but they came in really engaged and focused and didn't take us lightly."
With 6-foot-7 senior center Imani Boyette dominating inside (15 points, eight rebounds, three blocks), KU couldn't find anything easy near the basket all night and shot just 12-for-47 against the Longhorns (16-0, 5-0), who out-scored the overmatched Jayhawks 44-8 in the paint and won the battle of the boards 46-26.
Photo Gallery
Kansas women's basketball vs. No. 4 Texas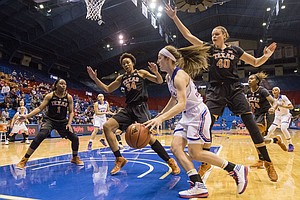 Images from the Kansas women's game against No. 4 Texas on Wednesday, Jan. 13, 2016 at Allen Fieldhouse. The Jayhawks dropped their seventh straight game, losing to No. 4 Texas, 75-38.
"To score around the rim was gonna be difficult tonight," Schneider said. "Caelynn (Manning-Allen, KU's starting junior post player) obviously struggled, going 2-for-11. She was out of sorts the entire game and it affected her on the defensive end. We count on her too much for her to have that kind of performance and give us any kind of a chance to have success."
Although Kansas actually won the second quarter, 12-10, Aldridge three-pointers proved to be the only consistent part of KU's first-half offense, as the sophomore guard made three of four from deep, giving her nine of KU's 19 points at the break.
A Kylee Kopatich layup, one Manning-Allen bucket and a solitary Timeka O'Neal three-pointer accounted for the rest of KU's first-half baskets, as the Jayhawks shot 6-for-24 (25 percent) in the first 20 minutes and turned the ball over 11 times, leading to a 38-19 Texas advantage at halftime.
Kansas missed its first seven shot attempts of the fourth quarter — not that the Jayhawks had a chance of coming back at that juncture. KU misfired on seven of its final nine shots in the third and turned the ball over six times in that seven-minute-plus stretch, as UT padded its already healthy lead to 60-28 entering the final period.
The Jayhawks play at West Virginia (14-4, 3-2) on Saturday.
More like this story on KUsports.com