Morgantown, W.Va. — Bob Huggins praised his alma mater's basketball fans just for showing up for Tuesday's 74-63 victory over Kansas University in WVU Coliseum.
"Let me start by saying that for 12,000 people to show up here on this (snowy, icy) night is unbelievable," Huggins said after his West Virginia Mountaineers grabbed sole possession of first place in the Big 12.
"That's fighting through some things. I know there were people still coming in the second half and I know it's hard for you guys (media) to get here. It was hard for me to get here. It would have been very easy for people to just go watch it on TV and I'm very appreciative of those 12,000. I think we have maybe 1,000 people that didn't make it or couldn't make it. The students were great."
Photo Gallery
Kansas basketball v. West Virginia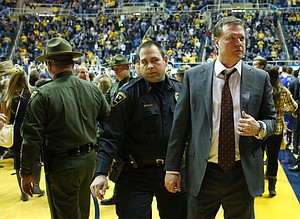 Images from Tuesday night's game between the Jayhawks and the Mountaineers at the WVU Colliseum in Morgantown, W.V.
His team held KU to chilly 41.7-percent shooting.
"We tried to run them off the line. We didn't do a very good job early. It's hard to come out of pressure and find people," said Huggins, whose squad forced 22 turnovers. "I thought we did a better job as the game wore on. We gave up some at the end. It's hard when you end up with your power forward on a point guard a lot of times, your point guard on the center and all that. That's why we've got to have ball pressure and make them scramble a little bit so we can get back to the guys we're supposed to be guarding."
Jaysean Paige had a career-high 26 points, some off drives to the hoop.
"I thought it gave us the best chance to win," Huggins said. "I think the way the game's being called it's hard to guard the ball. We tried to kind of revamp some things and keep them spread to try to be able to get guys to the basket."
KU's Perry Ellis led the Jayhawks with 21 points.
"We did a better job (at the end) and they stopped trying to isolate him so much," Huggins said. "We had better pressure on the ball. We didn't have pressure on the ball when they isolated him in the first half."
— See what people were saying about No. 1 KU at No. 11 WVU during KUsports.com's live blog
---
More news and notes from No. 1 Kansas at No. 11 West Virginia
---
More like this story on KUsports.com