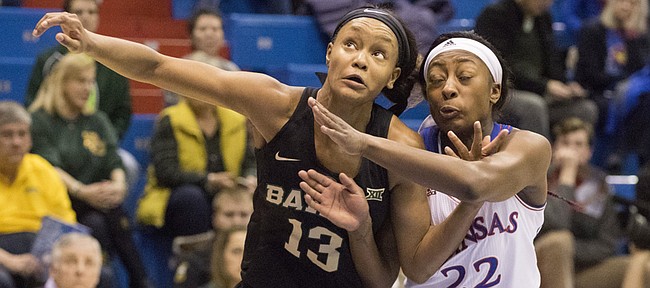 When the buzzer sounded at the end of the first half of Wednesday night's battle with No. 6 Baylor, Kansas University's women's basketball players raced off the floor and into the locker room with the kind of energy that helped them hang with the Bears for 20 minutes.
If only that energy would've stuck with them into the third quarter.
Instead of cutting into Baylor's halftime lead and continuing to frustrate BU with their inspired play, the Jayhawks came out flat, the Bears were on fire, and the visitors cruised to a 58-40 victory thanks to a 20-8 third-quarter advantage.
"We kind of got ahead of ourselves going into the locker room (at halftime)," said KU sophomore Chayla Cheadle, who led the Jayhawks with 12 points and five rebounds. "We needed to focus in, and when we got back out there the lead kind of slipped."
Baylor (15-1 overall, 2-1 Big 12) used a 16-2 run that opened the third quarter to gain some much-needed separation and, from there, cruised to a victory that was much more comfortable than the first half made it look.
Baylor opened the third hitting six straight shots and made eight of 11 shots in the quarter. Kansas, which had done a good job in the first two quarters of milking the shot clock and keeping Baylor out of transition, played a little sped up, and that played right into BU's hands.
"If you let them get out in transition, you can get run out real fast," KU coach Brandon Schneider said. "We turned it over too much in the third quarter. And you just can't get back because nobody expects you to turn it over."
After that initial run, which allowed Baylor to turn a 30-22 halftime edge into a 46-24 lead, the Jayhawks returned to their first-half ways and battled with Baylor to the final buzzer. But the run eliminated any dreams of a monster upset, and KU succumbed to its fifth straight loss and fourth in a row in Allen Fieldhouse.
One of the most impressive parts about the Jayhawks' strong first-half showing was that a good chunk of it came with leading scorer and floor general Lauren Aldridge sitting on the bench with two fouls.
Aldridge, who finished scoreless on 0-of-7 shooting, played just eight minutes in the first half and produced one of the most feeble-looking lines of her career — 0 points, 1 rebound, 2 assists, 1 turnover, 1 steal in 28 minutes.
"She just didn't make shots," Schneider said of his point guard. "And foul trouble there kind of took her out of the game."
Baylor coach Kim Mulkey agreed with Schneider's assessment.
"I'd like to tell you it was our defense," she said. "But I think she got some good looks. She just missed 'em."
Despite the sluggish third quarter that did them in, the Jayhawks (5-9, 0-3) left the arena hopeful that the strong effort the rest of the night was a turning point.
"There were some mini battles in which we competed really hard," said Schneider, referencing his team's ability to keep Baylor well below its season scoring average (81.9) and off the offensive glass as much as possible. "This young team took some positive steps forward tonight."
Added freshman guard Aisia Robertson, who finished with six points, four rebounds and two steals: "I definitely think we took steps forward as a team. Every day is a learning step for us. Today, we took everything in the game plan and executed, especially in the first half."
KU heads back out on the road on Saturday for a 7 p.m. showdown at Iowa State.
More like this story on KUsports.com